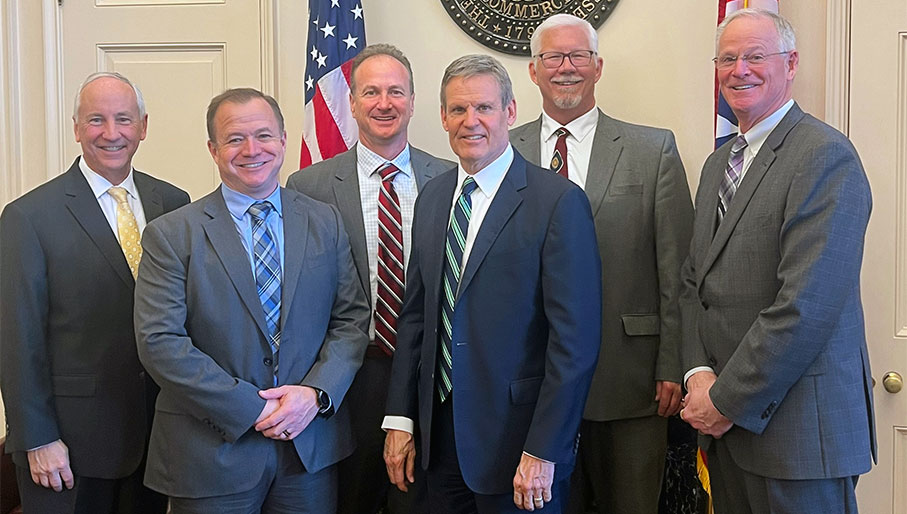 MEMPHIS, TENN. (January 26, 2023) – On January 25, MSCAA President and CEO Scott Brockman joined other airport executives with the Tennessee Association of Air Carrier Airports (TAACA) for a meeting with Gov. Bill Lee and Tennessee legislators. The meeting focused on the economic benefit of Tennessee's five commercial airports and infrastructure needs.
Pictured from left: Terry Hart, President & CEO, Chattanooga Metropolitan Airport Authority; Gene Cossey, Executive Director, Tri-Cities Airport Authority; Patrick Wilson, President, Metropolitan Knoxville Airport Authority; Tennessee Gov. Bill Lee; Scott Brockman, President and CEO, Memphis-Shelby County Airport Authority; and Doug Kreulen, President & CEO, Metropolitan Nashville Airport Authority.
TAACA is the trade association for the five commercial airports in Tennessee—Nashville International Airport, Memphis International Airport, Knoxville's McGhee Tyson Airport, Chattanooga Airport and Tri-Cities Airport. The organization advocates for airport interests and priorities, particularly as they relate to state government, including in both the General Assembly and the Executive Branch.