Annual High School Visual Arts & Photography Competition:

Memphis, Its Music, Sights and Sounds
16th Annual High School Visual Arts and Photography Competition / Exhibition
Latest News
Memphis International Airport announces winners of 15th annual High School Visual Arts & Photography Competition May 4
Memphis International Airport (MEM) hosted an exhibition and announced the winners of its art and photography contests on Thursday, May 4. 
View the complete gallery of 2023 winners and finalists:
All of the student's art and photographs are on display in B baggage claim until the 2024 competition. CityCurrent filmed the event and it will air on WKNO on Friday, August 11 at 7:30pm. You can also view the program below.
In 2008, Memphis International Airport launched an annual local visual art contest. Each year the top 45 works of art are selected and put on display along the walls in the airport's B baggage claim area. Students are challenged to capture what they love about the city.
Each year a panel of judges evaluates the new works for theme, concept, composition and craftsmanship.
Memphis International Airport receives more than 300 entries, from which 45 are selected to become paintings for the airport's exhibition along the walls in B baggage claim.
---
Performing Arts in the Airport
On the music stage in the terminal rotunda, various artists are featured throughout the year. Keep an eye on our social media channels for performance announcements and on our Music at MEM page.
---
Art Exhibits
Memphis International Airport hosts a variety of locally focused art exhibits. Our goal is to enrich the experience of travelers and provide them with a little insight into the culture, art and museums of Memphis. Much of the artwork on display is themed around the region's musical heritage.
In addition, there are 34 fine art pieces from the Memphis in May International Festival's collection on display in the concourse gate areas. The pieces are the original artwork created for the honored country for each year's festival.
---
Belz Museum of Asian & Judaic Art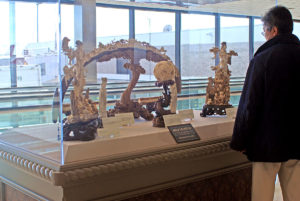 Memphis International Airport has 20 pieces from the Belz Collection on display outside the Delta Sky Club in the connector.
This beautiful collection of art includes jadeite and jade vases, ivory balls and figurines, an intricately carved mammoth tusk, a model Judaica train, silver scroll cases and a handcrafted Judaica set. One of the most impressive pieces is the exquisitely carved mammoth tusk featuring a beautiful Chinese landscape. Perhaps the most intriguing piece in the display is an ivory mystery ball with 48 concentric layers.