Your Safety Is Our Priority
All departing passengers are required by U.S. law to go through a security screening, operated by the Transportation Security Administration (TSA).
---
Real ID
The Department of Homeland Security has extended the deadline for Real ID to May 7, 2025.
Read more information here:
https://www.dhs.gov/news/2022/12/05/dhs-announces-extension-real-id-full-enforcement-deadline
---
Advances in Security Screening
The installation of TSA's Computed Tomography (CT) equipment at MEM was completed in October 2022. With the improved security capabilities of CT equipment at the MEM checkpoints, passengers can now leave their laptop computers, electronic devices and 3-1-1 compliant liquids in their carry-on bags for screening.
However, there are size limitations for these CT units and all items must fit into the grey divesting bins. Nothing can be placed directly on the moving belts. All oversized bags must be checked at the airline ticket counters because they will not be accepted for screening at any TSA checkpoint.
Bin size dimensions are as follows:
Depth: 5.5 inches
Width: 19.5 inches
Length: 24.5 inches
CT Tunnel Height: 16.5 inches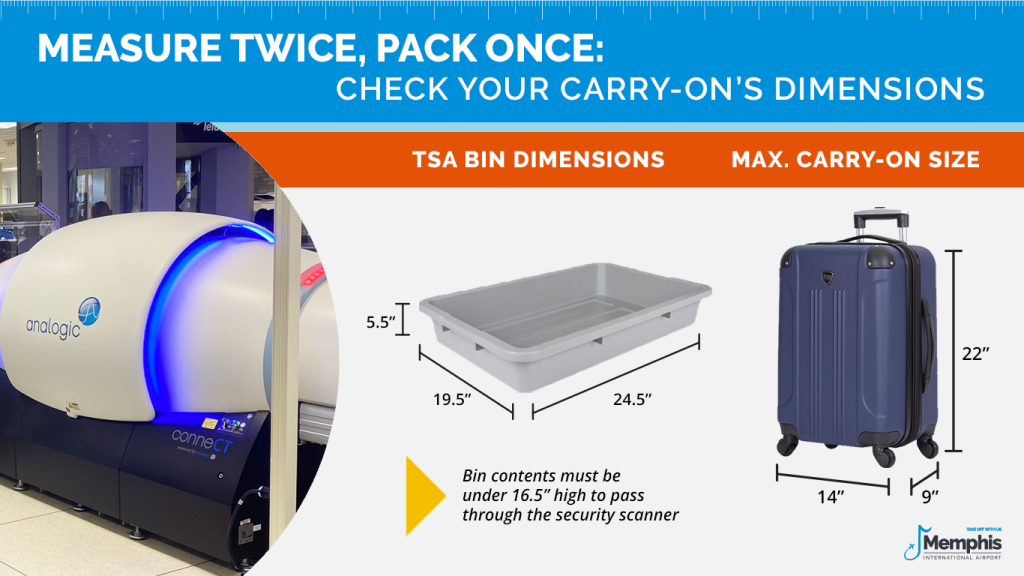 TSA also uses Advanced Imaging Technology at Memphis International Airport (MEM) security checkpoints.
Advanced Imaging Technology safely screens passengers – without physical contact – for metallic and nonmetallic threats, including weapons, explosives and other objects concealed under layers of clothing. (More info)
Hundreds of passengers are safely and discreetly screened each day. The screening process can be hassle-free with a little advanced planning.
Here's what you can do:
Before Arriving at Memphis International Airport (MEM)
Pack your carry-on bags in an organized manner using layers.
Know what items are prohibited from your carry-on bags.
Remember, "3-1-1." Liquids must be in 3-ounce containers and placed in a 1-quart plastic, clear zip-top bag. There is a limit of 1 plastic bag per passenger.
Certain types of clothing are more likely to set off the metal detector, such as metal belts, heavy jewelry, clothes with metal snaps, metal hair clips and underwire bras. Dress for success when coming to the airport.
---
A Word About Traveling with Firearms
For passengers looking to travel with/transport firearms through Memphis International Airport, there are some strict regulations that you need to know. Please check the Transportation Safety Administration website for the rules and regulations regarding the transport of firearms before you come to the airport.
Federal law prohibits the transportation of firearms in carry-on baggage.
Failure to follow these regulations can result in the end of your trip, the confiscation of your firearm, possible criminal prosecution and civil penalties of up to $2,000 per violation.
---
At the Airport
Arrive at least 2 HOURS ahead of your flight.
Make sure you have your airline boarding pass and photo ID ready to show to the TSA official.
Remove your coat or jacket and send it through the X-ray machine in a bin.
Remove your shoes and send them through the X-ray machine.
Laptops should sit alone in a bin to go through the X-ray machine. Do not add other personal items to the bin with your laptop. One laptop per bin.
Remove your clear, plastic, zip-top bag containing your liquids and place it in a bin.
Remove infants and children from strollers and baby carriers and carry them through the screening. Send strollers and baby carriers through the X-ray machine with your other personal items.
The security checkpoints generally open around 4 a.m. and are turned over to the Airport Police Department at 8:30 p.m.

If you need wheelchair assistance from the airport entrance to the gate, please contact your airline.
If you need additional assistance, please call 901-922-8000.
---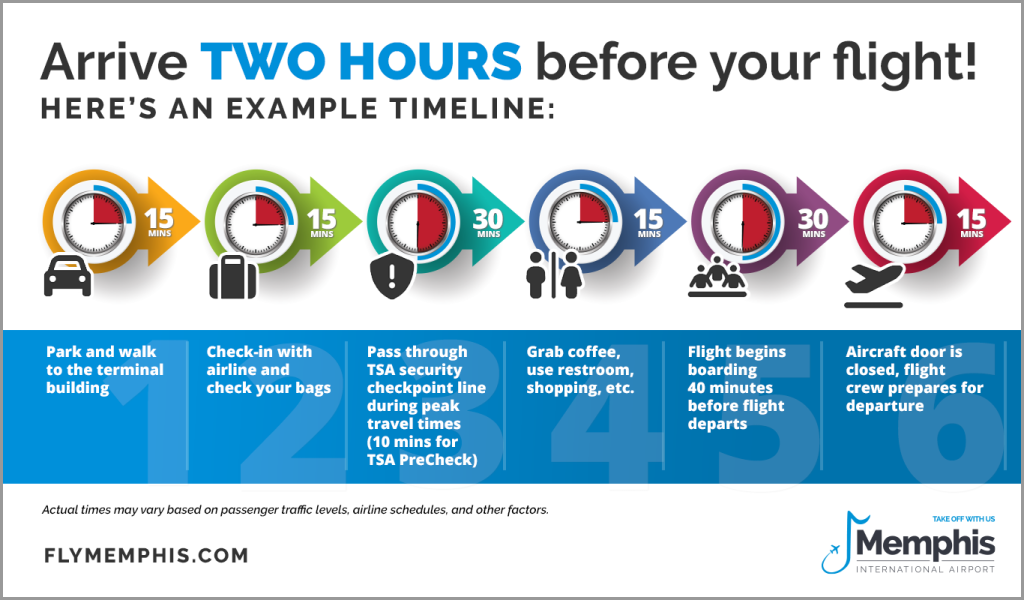 ---
Passenger Conduct with TSA Officials
Please be respectful to TSA officials. Inappropriate jokes, belligerent behavior and threats aren't kind or tolerated.
TSA officials serving Memphis International Airport (MEM) receive thorough safety and sensitivity training. Please cooperate during the screening process to avoid delay.
For a list of Frequently Asked Questions about airport security, visit the TSA FAQ.