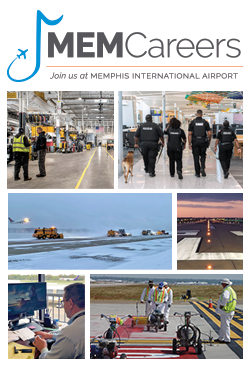 The Memphis-Shelby County Airport Authority (MSCAA) is a great place to let your career take off! MSCAA owns and operates Memphis International Airport (MEM), as well as two general aviation airports, General DeWitt Spain airport near downtown and Charles W. Baker airport in Millington. Nearly 5 million passengers travel through MEM each year. In addition, thanks to the presence of FedEx, MEM is North America's busiest cargo airport and the second busiest in the world.
MSCAA is responsible for the operation and maintenance of runways, airport buildings, facilities and the security and safety of our customers. MSCAA is known and well respected for its camaraderie and team culture. There are approximately 300 full-time and 35 seasonal employees at MSCAA. As an equal opportunity employer, MSCAA recognizes the importance and personal worth of each individual. MSCAA is committed to pursue diversity within its staff at all levels. The employees are MSCAA's greatest assets and we recognize employee engagement fosters an environment that increases job satisfaction. We know where we're going…take off with us!
---
Current Job Opportunities
Memphis-Shelby County Airport Authority Job Openings
---
Full-Time Employee Benefits
Insurance
Medical Insurance premiums paid at 80%
Life Insurance premiums paid at 80% + free $4,000
Dental Insurance premiums paid at 100%
$200 paid FSA
Long Term Disability (LTD) paid at 100%
Retirement Plans with employer contributions
Employee Assistance Program
Paid Time Off
Vacation: 6mos= 40hrs+; 1-5 years = 80 hrs; 5-10 years = 120 hrs; 10-15 years = 160 hrs; 15-25 years = 200 hrs; and 25 years or more = 240 hrs
Sick: 1mos – 10 years = 8 hrs per month; 11th year and up = 12. Can accrue up to 1560 and convert up to 24 hours to personal time.
Holidays: New Year's Day, Martin Luther King's Birthday, President's Day, Good Friday, Memorial Day, Independence, Labor Day, Thanksgiving Day and Day After, Christmas Eve and Day, and Floating Holiday.
Paid Bereavement
Paid Jury Duty
Paid Military Leave
Flexible Working Arrangements
Work from Home part time for non-shift work
Alternative work scheduling for non-shift work
---
The Human Resources Office

View on Map is located on the Mezzanine Level of Terminal A at Memphis International Airport.
Contact info:
Office: 901-922-8049
Fax: 901-344-2487
We are committed to a drug-free workplace. All job applicants are subject to drug testing and a fingerprint-based criminal history check. Memphis-Shelby County Airport Authority is an Equal Opportunity Employer. (EOE, M/F, D/V)
---
---

Memphis Airport Police Department (MAPD) Officers
Our Memphis Airport Police are more than a uniform. MAPD ensures the safety and security of MEM and its passengers every day. We are recruiting a few good men and women to join our team. Do you have what it takes?
---
MEM Partner Company Job Postings
Numerous employers operate at MEM, each of which coordinate all aspects of its employee recruitment and training. Following are links to more information about careers with our tenant partners.
MEM Partner Airline Job Postings