Welcome to MEM Reinvented.
The modernized concourse features more natural light, more room to move, new retail and restaurant options, and many new amenities to enhance the passenger experience.
Airlines/Gate Areas
All airlines now operate out of the new concourse. Gate areas feature enhanced seating with cup holders, outlets, USB ports, and cordless charging options. In addition, MEM is utilizing View Smart Windows to enhance the passenger experience. The technology uses artificial intelligence to automatically adjust in response to the sun, maximizing natural light and minimizing heat and glare.
Spirit Airlines: 1, 3
American Airlines: 2, 4, 6
Southwest Airlines: 5, 7
Delta Air Lines: 12, 14, 16, 18
United Airlines: 11, 13, 15
Avelo: 21
Allegiant: 22
Frontier Airlines: 23
---
Food & Beverage
---
Retail & Shopping
---
---
Artwork Featuring Local Artists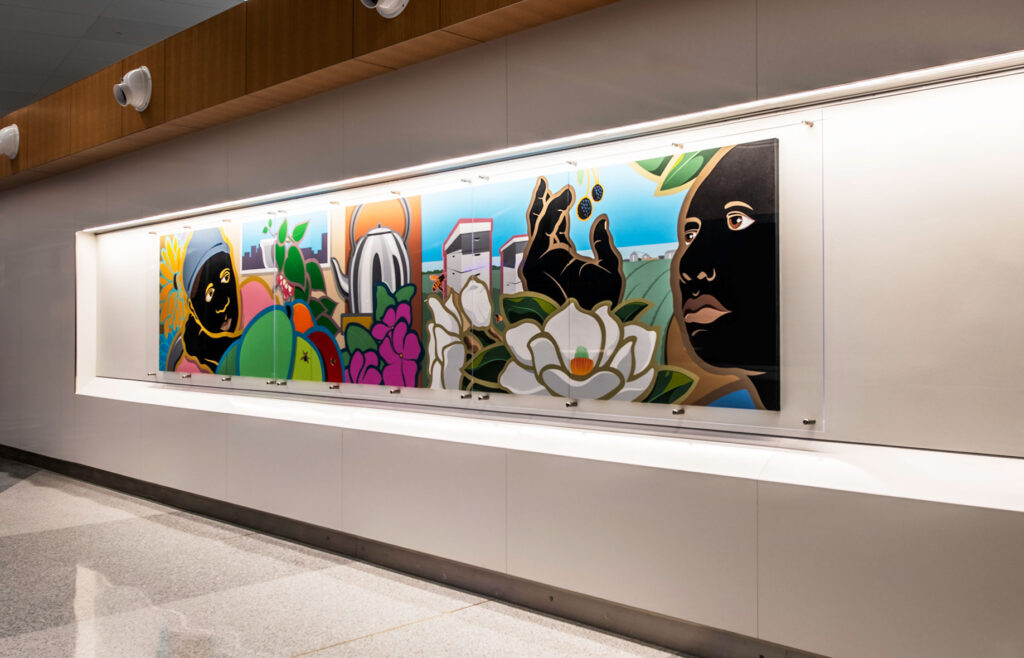 MEM's all-new art program includes 61 different artworks representing 62 artists, all of which are from or connected to Memphis. In addition to gate artwork, there are six site-specific commissioned projects including a hanging sculpture at the southeast end of the concourse, three original paintings printed on glass using ceramic ink in the restroom waiting areas, and a mural at the entrance/exit of the concourse. There are also rotating pieces located in the Rotunda and vitrines near each restroom waiting area.
---
Amenities
Restroom Areas
In addition to artwork at each waiting area, spacious, state-of-the-art restrooms will greet passengers between gates 4 and 6, in the rotunda area near gate 9, between gates 10 and 12, and between gates 13 and 15.
Mother's nursing rooms and family restrooms are located between gates 4 and 6, gates 10 and 12, and gates 13 and 15. There are two additional family restrooms near the checkpoint.
Business Center
MEM's new business center offers seating, outlets, and work areas, as well as a conference room that can be rented for business meetings. The business center is located between the rotunda and gate 9.
  
Pet Restroom
A pet relief area is located between the rotunda and gate 9 for individuals with service animals. The pet restroom near the security checkpoint also remains in service.
St. Jude Children's Research Hospital Patient Lounge
For the first time, a St. Jude Children's Research Hospital Patient Lounge will be located at MEM. The lounge will be staffed by St. Jude employees and will be available to the hospital's patients and their families. Located in the rotunda, the St. Jude Children's Research Hospital Patient Lounge features seating areas, a kitchen, TVs, and other amenities for its guests.   
Military Lounge
The new military lounge is located in the rotunda and is open for the exclusive use of retired and active-duty military personnel. The lounge will feature seating areas, workstations, a meeting table, and other amenities.
Children's Play Area
A children's play area is located near gate 7, just before the rotunda.

Additional Seating Areas
Additional seating areas are located near gates 3, 8, 10, and between gates 13 to 23. These seating areas include electrical connections including surface charging capability.