Memphis Made
Memphis Made Brewing Co.
Born in 2013, Memphis Made Brewing Co. brought an independently-owned and authentic fresh beer experience to the thriving city. They quickly expanded with the opening of the brewery's taproom in Midtown's historic Cooper-Young neighborhood, and now bring their iconic-Memphis institution into the airport for travelers to enjoy. Memphis Made Brewing Co. is a 2769 square foot restaurant featuring 10 taps pouring the brewery's line-up of craft beers including a rotation of two seasonal brews and popular traveler faves. To complement the beers, travelers will enjoy a locally inspired menu of salads, appetizers, BBQ, sandwiches, and burgers, along with a full breakfast menu.
Memphis Made is located between gates 3 and 5. View Menu.

Starbucks
Starbucks is located in the rotunda area, and will feature coffee, tea, juice and a variety of other beverages. The restaurant will offer breakfast, bakery goods, sandwiches and other snacks.
Lenny's Grill & Subs
MEM is bringing a fan favorite in the local brand "Lenny's Grill and Subs" to the new concourse. The first Lenny's Subs opened in 1998 in a suburb of Memphis, TN. This extremely popular 400 sq. ft. premium deli packs a ton of flavor, offering craft breads baked fresh daily, premium meats sliced to order, and freshly prepared toppings.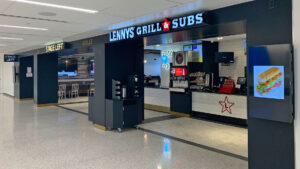 It all results in truly great sandwiches that guests around the world crave, like the "World Class Philly Cheesesteak", the awesome meatball sub, unique grilled sandwiches, and more! Lenny's also offers breakfast sandwiches as well as salads, cookies and soft drinks to round out the menu. Lenny's new location is near the rotunda area, near gate 10.
View Menu.

Stage Left Pizza, Bar, & Grille
It's showtime! This beautifully-designed 1500 sq. ft. space features a new take on the pizza pub! Enjoy craft drinks and unique local beers on tap while choosing from an array of different personal pizzas loaded to the edge with premium toppings. Stage Left not only features pizza, but the wings are fast, flavorful, and hot and the "old school style" burgers and chicken breast sandwiches, hot off the grill, are as good as you will find anywhere in the city! Stage Left is located adjacent to Lenny's between the rotunda and gate 10.
View Menu.

Grizz Grill
Experience the spirit of Grind City's beloved NBA Memphis Grizzlies with a visit to Grizz Grill. This 1538 square foot restaurant boasts a ton of T.V.s to catch the latest sports and a full menu of game-time favorites such as local Memphis craft beers, classic cocktails, buffalo wings, BBQ, loaded sweet potato fries, smokehouse chili, fresh salads, and mouth-watering sandwiches. Don't miss out on The Grizz, a decadent burger starring an Angus beef patty topped with BBQ pork and smothered with chipotle queso and caramelized onions.
The Grizz Grill is located between gates 14 and 16. View Menu.