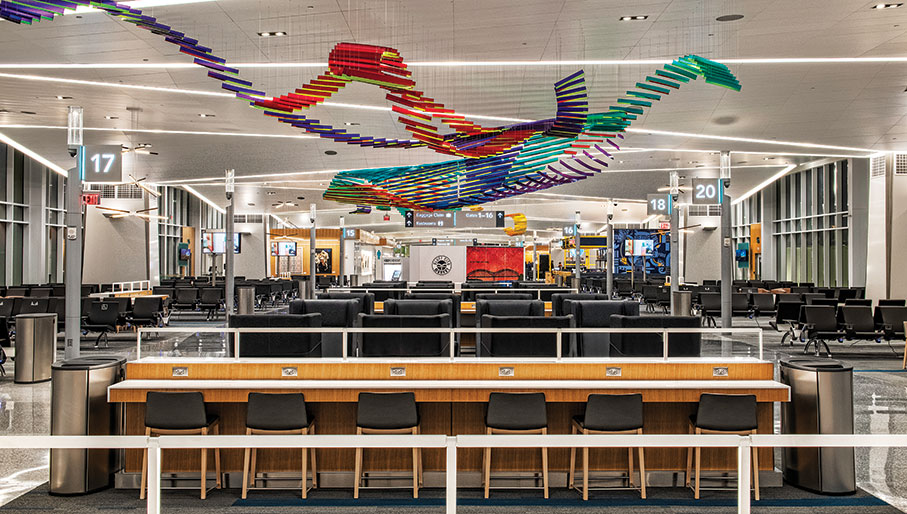 $550+ million in projects, 4.35 million passengers among highlights
MEMPHIS, TENN. (January 24, 2023) – 2022 was a pivotal year in the history of Memphis International Airport (MEM). A new $245 million passenger concourse, the launch of Spirit Airlines, the return of near prepandemic-level passenger traffic, and a new $309 million centralized deicing facility highlighted a year of reinvention for MEM. Following is a recap of MEM's historic year:
MEM Reinvented: New Concourse Opens
The most significant development was the opening of the airport's long awaited $245 modernized concourse in February, which served as a reinvention of the Memphis travel experience. The new concourse features higher ceilings, more natural light larger gate areas, charging stations at every gate seat, new restaurant and retail options, a new art program, a music stage, and even a lounge for St. Jude patients and their families.
Passenger Traffic and Air Service
The new concourse helped welcome nearly 4.36 million passengers in 2022, a 21.67% increase compared to 2021. Despite staffing issues that affected airlines nationwide, traffic continued to approach and at times exceed those of pre-pandemic levels. In addition, April 2022 featured the addition of Spirit Airlines, which launched nonstop service to Las Vegas and Orlando. In June 2022, American Airlines launched service between Memphis and Boston. Boston was previously MEM's top unserved destination.
Cargo Operations
In 2022, MEM continued to be the busiest cargo airport in North America, with nearly 8.91 billion pounds of cargo handled. While that total represented a decrease of 9.86% compared to 2021, cargo operations led by FedEx continued to have a huge impact on MEM and the local economy.
Consolidated Deicing Facility
In November, another massive construction project was completed with the opening of MEM's new consolidated deicing facility. The $309 million, environmentally friendly facility provides all commercial and cargo airlines with a centralized location to perform their deicing operations, increasing efficiency and reliability. The facility features 12 deicing bays and a 1600-square-foot control tower to manage ground traffic to and from the pads.
Community Investment
The airport continued to remain steadfast in its support of local, minority, and women-owned businesses as well. The most recent annual report from the Business Diversity Development department showed that Disadvantaged, Minority and Women-Owned Business Enterprises (D/M/WBEs) were awarded 21% of the $152.9 million total spent in the areas of construction, professional services, and goods & services contracts for fiscal year 2022.
Looking Ahead: 2023
Late in 2022, MEM completed its Master Plan, which provides a roadmap to completing the terminal modernization, updating and expanding our landside (parking, rental car, curb) facilities and ensuring our world class airfield continues to meet the needs of our cargo and passenger airlines, general aviation and military tenants. The first phase of this plan will begin in 2023, when the airport begins the modernization of its ticketing and baggage areas.
Air Service/New Routes
2023 got off to great start for MEM's air service initiatives, as American Airlines launched new service between Memphis and Austin on January 10. In May, Delta Air Lines will launch service between Memphis and Boston. MEM officials continued to regularly meet with both new and existing airlines, and the airport is collaborating with Memphis Tourism, Greater Memphis Chamber and other community leaders in order to build our case for continued air service growth, including international routes.
For more information about the updates and projects detailed in this release, visit www.flymemphis.com.