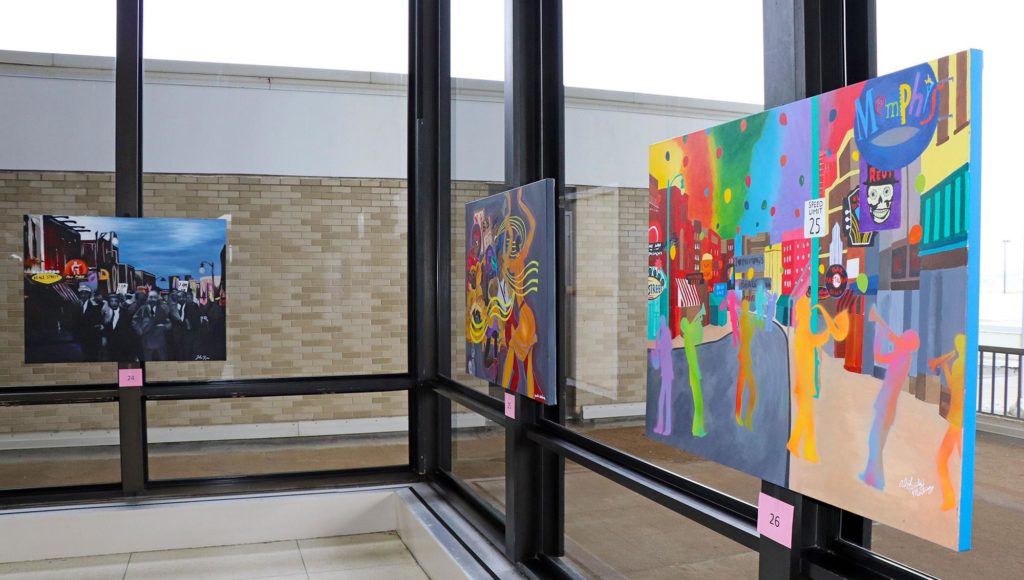 MEMPHIS, Tenn. (April 30, 2018) – As part of its 11th annual High School Visual Arts Competition, Memphis International Airport (MEM) will host an exhibition and announce the winners of its art and photography contests on Thursday, May 3, from 7-9 p.m. The event will take place in the B Ticketing Lobby and all participating students, their families and the public are invited to attend.
The exhibition is part of the airport's "Arts in the Airport" program. All Shelby County public high schools were invited to participate. The airport received 193 paintings and 118 photography submissions from 14 different schools. Of these, 45 painting finalists were chosen to have their work displayed in the airport. All of the photography entries will also be displayed.
The top six entries in each category will earn cash and prizes from $75 to $400. One winner will earn a scholarship from HMS Host, which operates several restaurants at MEM. The top three entries will be announced at the conclusion of Thursday evening's event. Winners are selected by a panel of judges that includes local artists and photographers along with representatives from the College of Art, University of Memphis, the Withers Collection Museum & Gallery and the Dixon Gallery and Gardens.
Thursday night's event will also feature food provided by the airport's food and beverage tenants.
"This year marks our 11th year to showcase the incredible artistic talents of Shelby County students," said Scott Brockman, President and CEO of the Memphis-Shelby County Airport Authority. "It is an honor for us to display these paintings and photographs, as they reflect so many great elements of our city." 
Students are provided art supplies by the airport's community foundation for the contest, and the finalists' pieces are displayed throughout the airport for one year. Most pieces are available for purchase to the public, and all proceeds go to the student artist. Some airport retailers may also sell items that feature students' artwork, with proceeds from those sales going to help purchase art supplies for the contest.
###