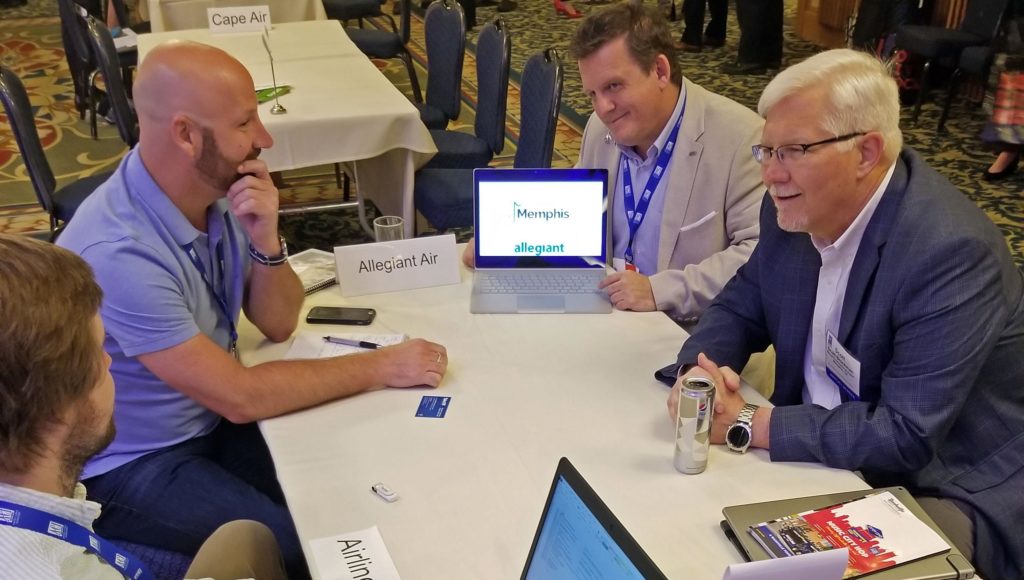 Photo: Memphis-Shelby County Airport Authority's President and CEO Scott Brockman (bottom right) and Senior Manager of Air Service Research and Development Chip Gentry (top right) meet with Allegiant's Dan Meier (top left) and Max Barrus (bottom left) at the ACI-NA JumpStart conference. Allegiant was one of 13 airlines that met with MEM this week. 
MEMPHIS, Tenn. (June 7, 2018) – This week, Memphis International Airport (MEM) continued its efforts to add frequent and affordable air service through airline meetings at the 2018 Airports Council International – North America (ACI-NA) JumpStart® Air Service Development Conference in Cleveland, OH.
The event took place from June 4-6 and drew more than 400 aviation professionals, with 29 airlines and 195 airports represented.
This forum allowed for numerous pre-arranged meetings between airport executives, airlines, charter operators, and other aviation professionals.
The primary goal of these meetings is to see how MEM can fit into the short-, medium-, and long-term business plans of various airline companies. Subjects can include maintaining existing service, gaining the airline's long-term consideration for a future route, or making a case for a more immediate route. This type of "speed-dating" between the airport and airlines can lead to more extensive meetings about adding air service to the Memphis market.
"This is a great opportunity for the Memphis International Airport," said Scott Brockman, President and CEO of MSCAA. "We met with 13 new and existing carriers, representing domestic and international service. We also met with other airports to develop unified strategies to recruit air service between our cities."
Since 2013, MEM has added five new airlines – Air Canada, Allegiant, Frontier, Southwest and Vacation Express – and made 27 new flight announcements. In April 2018, MEM saw an increase of more than 13,700 enplanements compared to April 2017, an 8% increase. Enplanements have increased this fiscal year by more than 94,000 compared to last fiscal year.
###