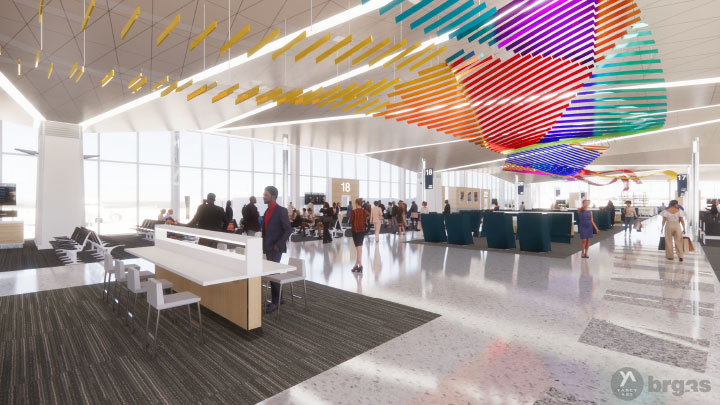 MEMPHIS, Tenn. (June 16, 2020) — Memphis-Shelby County Airport Authority (MSCAA) has approved the winning proposals for five new public art opportunities as part of Memphis International Airport's modernized Concourse B, which is scheduled to open in 2021. The MSCAA Board of Commissioners' Ad Hoc Art Committee approved the selections today, which were recommended by a selection committee led by the UrbanArt Commission (UAC). All of submissions are led by local artists.
In February, UAC released three Calls to Artists for five new permanent artworks including a $350,000 suspended sculpture project for the Southeast Concourse, a $125,000 wall-bound artwork at the security checkpoint, and three $15,000 design-only opportunities for glass artworks at waiting areas throughout the Concourse. UAC received a total of 239 artist submissions for the five projects. 
Following are the artists selected for each project:
$350,000 Suspended Sculpture for Southeast Concourse

Yancy Villa-Calvo & brg3s

 
$125,000 Project for the Security Checkpoint 

Jamond Bullock & Eric Okdeh

 
3 – $15,000 Glass Artworks for Waiting Areas

Danny Broadway
 
Melissa Dunn
 
Susan Maakestad
"The UAC team and leadership are thrilled with the selected proposals for the Memphis International Airport which will not only contribute significantly to the experience of travelers through our airport, but also provide an important platform to showcase these incredible artists," said UAC Executive Director Lauren Kennedy.
"We are very excited to announce the winning proposals for the B Concourse art program," Scott Brockman, President and CEO of the Memphis-Shelby County Airport Authority. "All of our selected winners are led by local artists, which is a testament to the talent and creativity in our community. There is also strong representation from women and minority artists, which we feel is essential in celebrating the diversity in our great city."  
The selection committee for all five projects included local art professionals and business leaders. The committee selected finalists, each of whom presented their submissions to the committee in June. Members includes Committee Chairman Jim Keras, Owner of Jim Keras Automotive, MSCAA Board of Commissioners; Darrell Thomas CEO, Thomas Consultants, Inc., MSCAA Board of Commissioners; Pamela Clary Executive VP, ComCap, MSCAA Board of Commissioners; Gregory Fletcher, MSCAA Board of Commissioners;  Richard Lou, Professor and Chair of Fine Art, University of Memphis; Faith Morris, Chief of Marketing and External Affairs, National Civil Rights Museum; Whitney Hardy, Founder of 3RDSPACE; Maggie Russell, Visual Artist;  Lucy Woodson, Founder, Worlds Away; Brenda Duckett, Memphis Community Leader; Metcalf Crump, Owner & Architect, The Crump Firm; Brian Bullard, Owner and Architect, UrbanArch Associates; James Hay, Director of Development, MSCAA; Glen Thomas, Director of Strategic Marketing & Communications, MSCAA; Scott Brockman, President & CEO, MSCAA (non-voting).
For more information about this partnership or the Calls to Artists, please contact Ebony Archie at 901.290.0955 or ebony@uacmem.org. For more information about the Concourse B modernization, please contact Glen Thomas at 901-922-8301 or GThomas@flymemphis.com. 
UrbanArt Commission (UAC)is a Memphis-based non-profit organization dedicated to creating opportunities for artists and neighborhoods to connect and shape spaces through public art. UAC's vision is for the arts to be integral to a thriving and equitable Memphis. With 100+ public art projects throughout the city, UAC aims to increase the density and impact of public art in neighborhoods across Memphis, while supporting new media and methods for public art. To stay up to date on all new projects and existing work in the city, go to uacmem.org. 
Memphis-Shelby County Airport Authority (MSCAA)owns and operates Memphis International Airport (MEM), as well as two general aviation airports, General DeWitt Spain airport near downtown and Charles W. Baker airport in Millington. More than 4.4 million passengers traveled through MEM last year. In addition, thanks to the presence of FedEx, MEM is North America's busiest cargo airport and the second busiest in the world. MSCAA operates and maintains runways, airport buildings, and other facilities, and is responsible for the security and safety of our customers. There are approximately 300 full-time and 35 seasonal employees at MSCAA. 
###