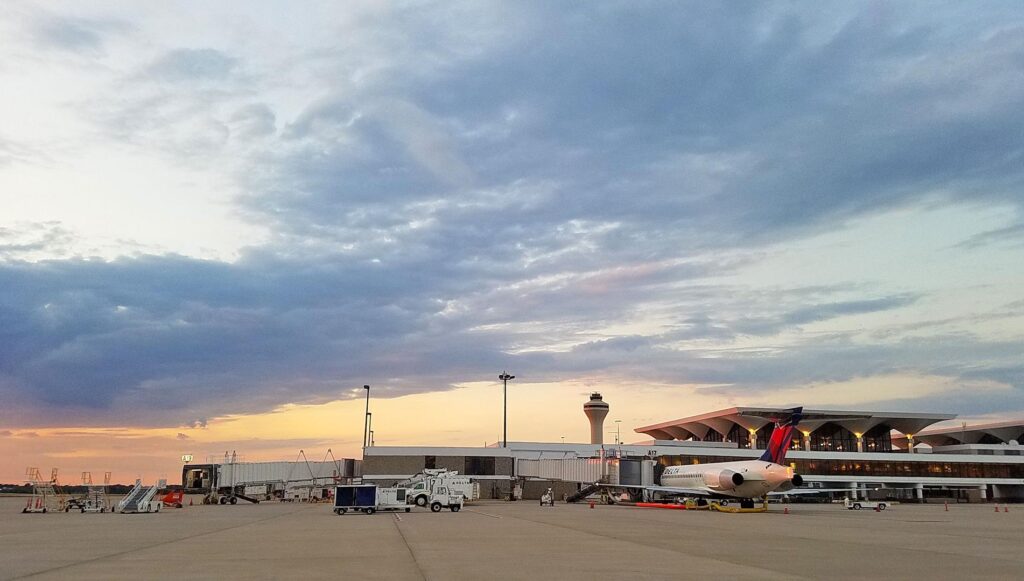 MEMPHIS, TENN. (June 30, 2020) – In response to growing passenger demand, airlines at Memphis International Airport are beginning to resume flights that were suspended due to the COVID-19 pandemic. On Monday, June 29, the Transportation Security Administration screened more than 2880 passengers and employees, the most since March 16.
Monday's numbers reflect the slow, steady growth that MEM has experienced since April, when the pandemic had its greatest impact. In response to increased demand, airlines are resuming previously suspended routes and frequencies, with a notable increase in July and August. Total available airline seats in July will increase to 122,836 from 81,571 in June.
Following is a current summary of destinations for each of MEM's major airlines:
Allegiant: Austin, Destin, Ft. Lauderdale, Las Vegas, Los Angeles, Orlando-Sanford, Phoenix-Mesa, Punta Gorda, and St. Pete-Clearwater.


 
American Airlines: Charlotte, Chicago, Dallas, Miami, Philadelphia (resumes 7/7), and Washington, DC.


 
Delta Air Lines: Atlanta, Detroit (resumes 7/8), Minneapolis (resumes 8/1), Salt Lake City (launches 8/1)


 
Frontier: Denver, Orlando


 
Southwest Airlines: Atlanta, Baltimore (resumes 8/11), Chicago, Dallas, Denver, Houston (resumes 8/11), Orlando, Phoenix (launches 12/17), and Tampa (resumes 10/11)


 
United: Denver (resumes 7/7), Chicago (resumes 7/6), Houston
While the current trends are positive, passenger traffic remains down significantly, with the most recent checkpoint numbers reflecting a 73% decrease compared to the same time last year, and the national average reflecting a 78% decrease. As a result, many airport businesses remain temporarily closed or have reduced hours.
"It's very encouraging to see passenger numbers and air service rebound at MEM and elsewhere in the U.S." said Pace Cooper, Chairman of the Memphis-Shelby County Airport Authority Board of Commissioners. "In addition, MEM and its partners are adapting to the new reality by implementing safety measures to the combat the spread of COVID-19."
Current retail and restaurant operations at MEM (opening times listed below – closing times vary, based on passenger traffic and departing flight times):
Ticketing:
River City News and Gifts (opens at 7 am)
A/B Connector, near the security checkpoint:  
Urban Market (opens at 5 am)
 
River City News and Gifts (Opens at 430 am)
A Concourse:  
Lenny's Subs (opens at 5 am, Mon-Sun)
 
River City News and Gifts (opens at 6 am)
C Concourse:  
Neely's Interstate BBQ (opens at 9 am)
 
CNBC Store (opens at 5 am)
Other:
Operational Updates/COVID-19 Measures
Masks are now required in public buildings per the City of Memphis Face Covering Ordinance 5751. Most airlines are requiring masks/facial coverings for all boarding passengers. Complimentary masks are available at the ticketing counters, and additional masks are available for sale at retail shops.


 
Ridesharing companies Uber and Lyft now require both drivers and passengers to wear face masks during trips.


 
Floor markings are in place which illustrate the recommended 6′ distancing between passengers.


 
Businesses and airlines have installed Plexiglass at counters as an extra measure of protection.


 
Check with your airline before traveling. Each airline has its own policies related to COVID-19.


 
MEM and its partners continue to maintain enhanced cleaning and sanitation of high contact areas, including the gate areas and the security checkpoint. Sanitizer dispensers can be found throughout both the A and C concourses.
Passengers can get additional updates at www.flymemphis.com/covid-19.
###