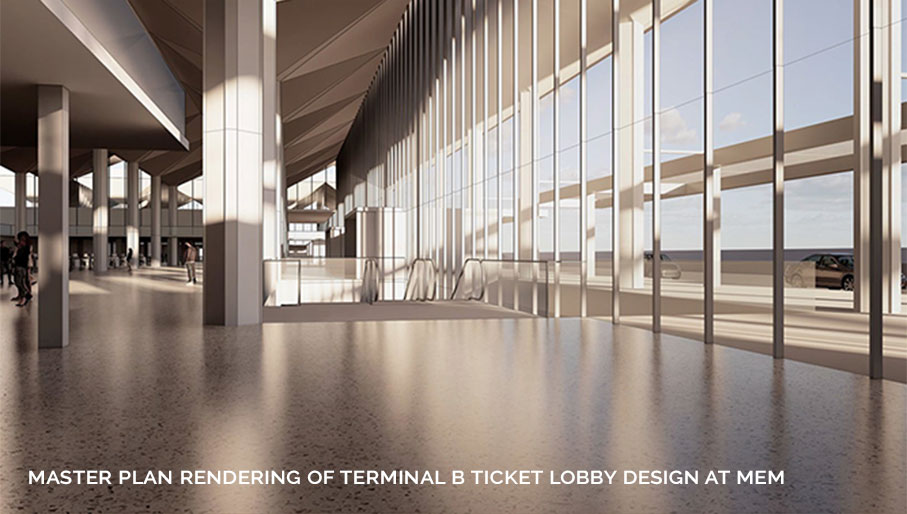 Additional $1 million grant awarded for new Baker airport terminal
MEMPHIS, TENN. (February 27, 2023) – The U.S. Department of Transportation's Federal Aviation Administration (FAA) has awarded $14.8 million in Airport Terminal Program (ATP) funding to Memphis International Airport (MEM).
Today, the FAA announced $967 million in funding to 99 U.S. airports. This funding is from one of three aviation programs created through the Infrastructure Investment and Jobs Act, known as the Bipartisan Infrastructure Law. The law provides $1 billion in competitive funds annually over five years to airports to expand terminal capacity, promote competition, increase energy efficiency, and improve accessibility for passengers across the country.
This award funds a portion of MEM's Terminal Modernization program, which involves increasing the size of the terminal and renovating the ticketing and baggage areas, expanding the security checkpoint, implementing technological improvements to baggage and security, and seismic enhancements.
The Memphis-Shelby County Airport Authority (MSCAA) also received a separate $1 million award that will help fund the construction of a new terminal at Charles W. Baker Airport in Millington.
"This funding will help us continue to reinvent Memphis International Airport by starting the modernization of the ticketing and baggage areas," said Scott Brockman, MSCAA President and CEO. "It will also benefit our general aviation operations by helping to fund the construction of a new terminal at Charles W. Baker Airport. We are grateful to the FAA for this award, and we thank our members of Congress, especially Congressman Steve Cohen, for his ongoing support of MEM, its passengers and its employees."