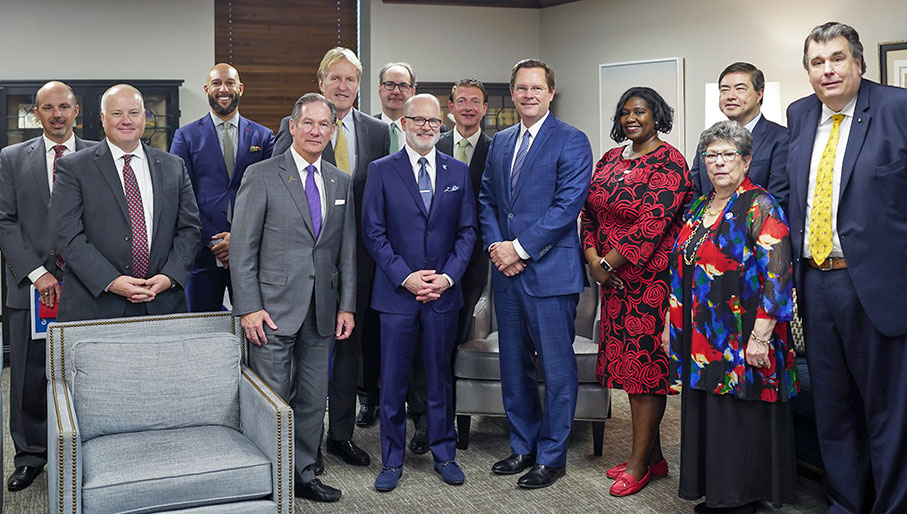 Above, L-R: Terry Blue, MSCAA; Brandon Cooper, Simmons Bank; Tim Howard, 901FC; Doug Browne, The Peabody Hotel; Kevin Kane, Memphis Tourism; Mike Keeney, MSCAA; Ted Townsend, Greater Memphis Chamber; Craig Unger, Memphis Redbirds; Cameron Sexton, Speaker of the Tennessee House of Representatives; Mia McNeil, AARP; Kenneth Lin, International Paper; Dotty Summerfield Gusti, Summerfield & Associates; Alan Crone, The Crone Law Firm
MEMPHIS, TENN. (February 28, 2023) — Last week, representatives from the Memphis International Airport (MEM) were part of a delegation led by the Greater Memphis Chamber that traveled to Nashville for their annual MEM2NASH trip. The purpose of MEM2NASH is to bring the business priorities of the Memphis region to the Governor, state legislators, and administration officials. The delegation included the Greater Memphis Chamber, City of Memphis, Memphis Tourism, MEM, along with additional business and community leaders. More than 50 business and community leaders attended 22 meetings with state legislators and additional meetings with Gov. Bill Lee and his staff.
One of this year's goals of MEM2NASH is to secure support from the State of Tennessee for the purpose of recruiting international air service. The Memphis business community has expressed interest in international air service to meet business travel needs and assist with economic development in the region. MEM will continue to work closely with the Chamber and Memphis Tourism to obtain business travel and tourism spending data to share with airlines.
Memphis-Shelby County Airport Authority (MSCAA) was represented by Commissioner Mike Keeney, Chairman of the Board; Terry Blue, Executive Vice President of Operations and Chief Operating Officer;  and Michael Fulton, Director of Government Affairs and Business Diversity Development in meetings with Governor Bill Lee, his cabinet staff and members of the Tennessee General Assembly.