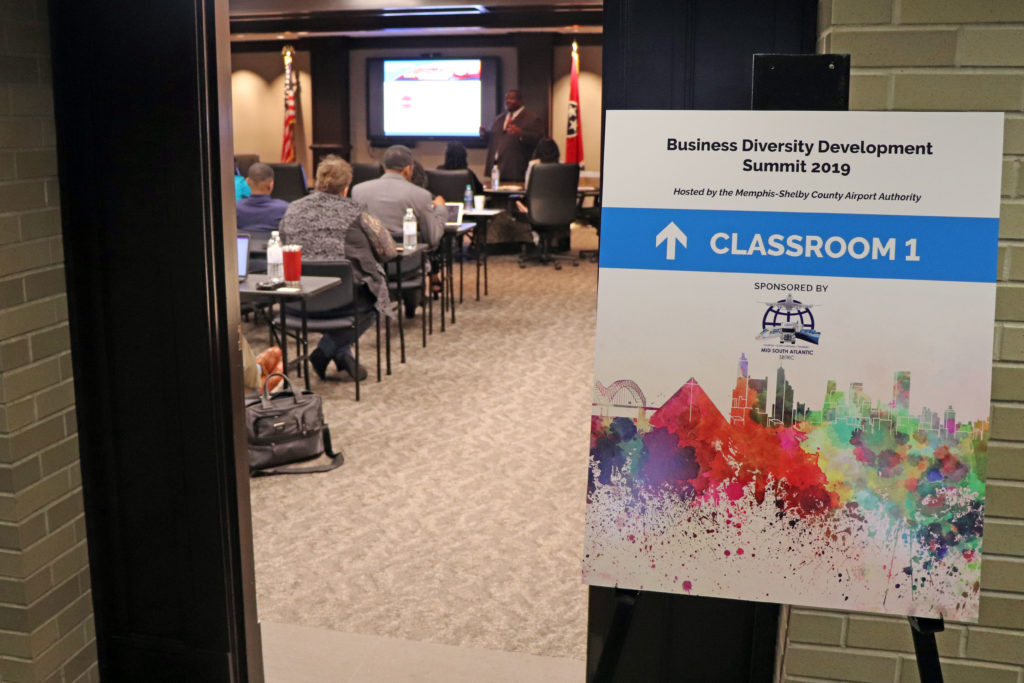 Event draws local, minority-owned & women-owned businesses 
MEMPHIS, Tenn. (April 24, 2019) –Memphis-Shelby County Airport Authority (MSCAA) is hosting its 2019 Business Diversity Development Summit this week. The event, which began April 23 and concludes April 25, is geared to increasing partnerships with local, minority-owned and women-owned businesses.
The event has drawn more than 100 attendees, and features workshops on Small Business Administration certification and guidance for government contracting. The summit will also feature a workshop highlighting the United States Department of Transportation Bonding Education Program, which is designed to provide participants with the necessary business intelligence required to successfully perform federal transportation construction-related projects.
In addition, participants receive one-on-one assessments and coaching from bond producers and consultants, which enables these companies to increase capabilities and capacities.
The workshops will also touch on subjects such as bonding and insurance, marketing, estimating bids, joint ventures, access to capital, accounting, and commercial lending. 
Guest presenters include Rory Thomas, Executive Director, Tennessee Small Business Development Centers and Joe Jackson, Executive Director, Mid-South Atlantic Small Business Transportation Resource Center (SBTRC). A Thursday luncheon will feature guest speaker Dennis Kennedy, Founder and Chairman of the National Diversity Council.
"Minority, women-owned, and disadvantaged businesses are a strength to our community, and our economy needs these businesses to grow and prosper," said Scott Brockman, President and CEO of the Memphis-Shelby County Airport Authority. "It's the Airport Authority's goal to equip all of our attendees with valuable information about doing business with both the airport and other governmental and corporate entities."