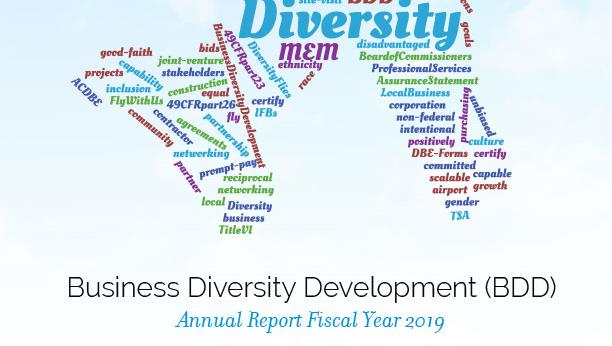 Disadvantaged, minority, women-owned businesses comprise 30% of spending
MEMPHIS, TENN. (November 21, 2019) –Memphis-Shelby County Airport Authority (MSCAA) has released its 2019 Business Diversity Development (BDD) report. According to the report, Disadvantaged, Minority and Women Business Enterprises (D/M/WBEs) were awarded 30% of the $103 million total spent in the areas of construction, professional services and goods & services contracts. Of that amount, 61% was awarded to local businesses.
The report also lists areas identified for potential growth for D/M/WBEs, including pavement joint resealing, fuel management, professional services, legal services, new DBE prime contractors and mentoring/protégé opportunities.
Other initiatives detailed in the report include the implementation of online certification, which has led to an increase in applications and certifications. 
Other statistics detailed in the report:
20 new DBE company certifications in 2019
 
164 annual/reciprocal/interstate applications compared to 110 in 2018.
 
Between FY 2020-2022, MSCAA expects approximately $174.7 million in federally funded contracts, which should result in more than $45.79 million spent with D/M/WBEs during that time period.
"MSCAA is committed to investing in the local community, and this report is a testament to that commitment and the hard work of our BDD staff," said Scott Brockman, President and Chief Executive Officer of MSCAA. "The airport is one of the Mid-South's largest engines of economic growth, and we're depending on these outstanding local businesses to help shape our future."
The report can be downloaded at http://bit.ly/MEMBDDreport2019.
###