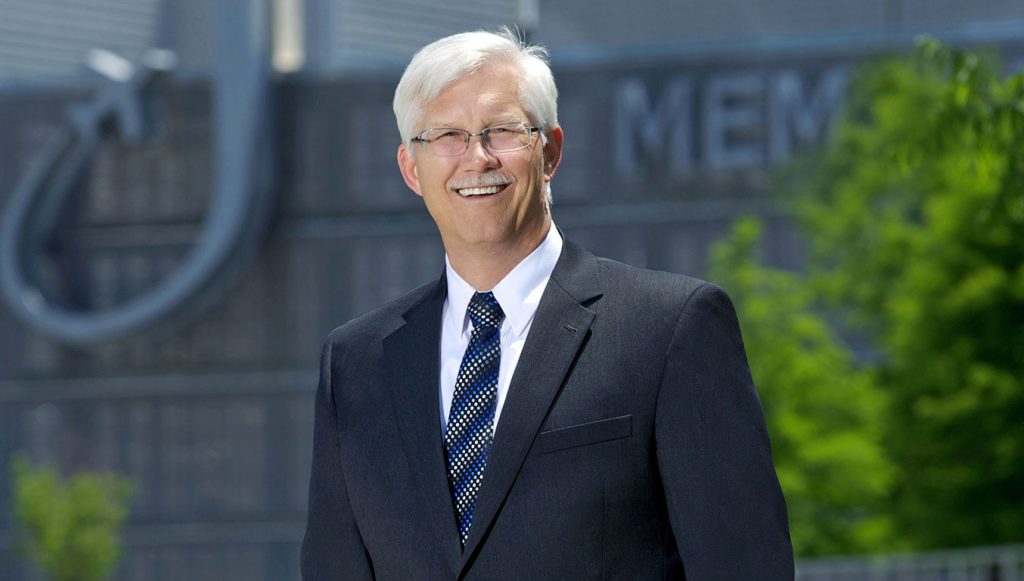 MEMPHIS, TENN. (July 21, 2022) – Scott Brockman, President and CEO of the Memphis-Shelby County Airport Authority (MSCAA), has announced that he will retire effective December 31, 2023.
Brockman joined MSCAA in June 2003. He was appointed President and CEO on January 2, 2014, after having served as Executive Vice President and Chief Operating Officer. During Mr. Brockman's 37-year career, he has also held executive management positions with Tucson International Airport, Des Moines International Airport, and Sarasota-Bradenton International Airport. 
During his tenure as CEO, Brockman has overseen a number of historic milestones and projects for Memphis International Airport (MEM), including:
Hub to Origin and Destination Operations: After Delta Air Lines removed its hub operation from MEM in June 2013, Brockman led the airport's reinvention into an origin and destination (O&D) airport, leading to the expansion of existing carriers and the addition of several new airlines to the Memphis market. In 2019, MEM experienced the highest O&D traffic in its history with more than 4.64 million total passengers.
Cargo Operations and Economic Impact: MEM has remained the busiest cargo airport in North America and in 2020 was the busiest cargo airport in the world. A 2017 University of Memphis study revealed that MEM has an economic impact of $19.1 billion on the Memphis community.
Airfare: With the transition to O&D operations, the average airfare at MEM has fallen considerably. The average fare at MEM for the 4th quarter 2021 was $333.20, compared to $594.61(inflation adjusted) for 4th quarter 2011 when the airport still operated as a hub. While airlines control fares rather than the airport, the addition of new airlines and competition has helped to bring fares down. While MEM once featured some of highest fares in the nation during the hub era, the airport is no longer ranked in the top 50 airports with the highest fares.
Concourse Modernization: Under Brockman's leadership, MEM embarked on a $245 construction project that modernized the B Concourse. The new concourse opened in February 2022 and featured more natural light, higher ceilings, amenities such as charging stations at every seat, and new art, restaurant and retail options.
Consolidated De-Icing Facility: Current $305 million construction project will provide airlines with a centralized location to perform their de-icing operations during winter weather, increasing their efficiency. The facility will be one of the largest of its kind in the aviation industry and will allow the Authority to enhance its environmental compliance program.
Mission Support Center: Completed in December 2020, this $55 million dollar facility houses airfield operations, maintenance, police, procurement, and warehouse activities. This critical facility is not visible to the travelling public, but serves a pivotal role in MEM's daily operations, improving airport efficiency and enhancing the growth of our largest tenant, FedEx Express.
Financial Management: MSCAA has continued to maintain outstanding credit ratings even in the wake of the pandemic, holding "A" ratings from Fitch and S&P, an "A2" rating from Moody's and an "A+" rating from KBRA.
Commitment to Minority and Local Businesses: In 2021, Disadvantaged, Minority and Women Business Enterprises (D/M/WBEs) were awarded 29% of the $173.85 million total spent in the areas of construction, professional services and goods & services contracts.
"Scott's impact on the success of MEM cannot be understated," said Michael Keeney, Chairman of the MSCAA Board of Commissioners. "He will leave an ongoing legacy of success, having navigated the airport through significant challenges such as the transition to O&D operations, the pandemic, and the transformational concourse modernization project. Scott has continuously maintained a leadership role in the aviation industry, which is reflected by the many times he has been recognized by his peers. In addition, he has also had a tremendous positive impact on the community through his involvement with numerous organizations."
The MSCAA board will now begin a process to identify and select Brockman's successor as CEO.
Brockman is an Accredited Airport Executive (AAE) and is a Past Chairman of the Executive Committee of the Board of Directors for the American Association of Airport Executives (AAAE). He currently serves on the Board of Directors for the International Association of Airport Executives (IAAE) and as a Transportation Representative to the Federal Reserve Bank of St. Louis. 
Brockman previously served as President of the Southeast Chapter of AAAE, Chairman of the AAAE National Airports Conference, Chairman and Southeast Chapter representative of the AAAE Board of Examiners, Chairman of the AAAE Audit Committee, Chairman of the Airports Council International – North America (ACI-NA) Economic Affairs Committee and North America representative to the ACI World Economic Board. He was awarded the AAAE Distinguished Service Award in May 2013, has been named the Southeast Chapter AAAE Airport Professional of the Year twice, and was given the Chairman's Award in 2021.