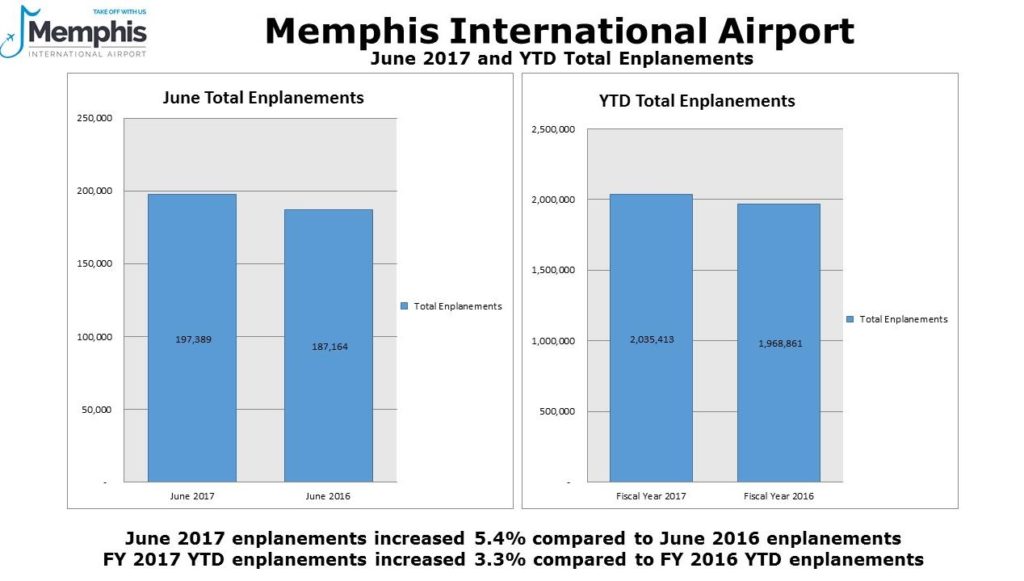 MEMPHIS, TN (July 27, 2017) – Memphis International Airport reached two million enplanements in Fiscal Year 2017, the first time that the airport has reached this level since 2012. At the July meeting of the Memphis-Shelby County Airport Authority Board of Commissioners, MSCAA Vice President of Finance and Administration /CFO Forrest Artz reported that MEM totaled 2,035,413 enplanements in FY2017 compared to 1,968,861 enplanements in FY2016, a 3.3% increase. In addition, June 2017 enplanements increase by more than 10,000 compared to June 2016, a 5.4% increase.

June's total of 197,389 enplanements also exceeded the Airport Authority's projected enplanements for the month by more than 14,000. 

Also notable is the increase in available seats at MEM, with June featuring an average of 7,650 seats per day, an increase of more than 200 seats per day compared to May 2017. Increased passenger numbers and seats are a reflection of a growing MEM market that has experienced flight additions such as Air Canada's nonstop service to Toronto, summer seasonal flights by Southwest and Allegiant, as well as larger planes added by other carriers such as Frontier. In June, MEM averaged an 85% load factor, which refers to the percentage of available seats that are filled by passengers. 
"We are excited to see this type of continued positive momentum at Memphis International Airport," said Pace Cooper, Chairman of the Board of Commissioners for the Memphis-Shelby County Airport Authority. "It's encouraging to see our passengers filling planes and outpacing our projected growth. We're continuing to build on this momentum by meeting with airlines to find additional routes for our passengers."