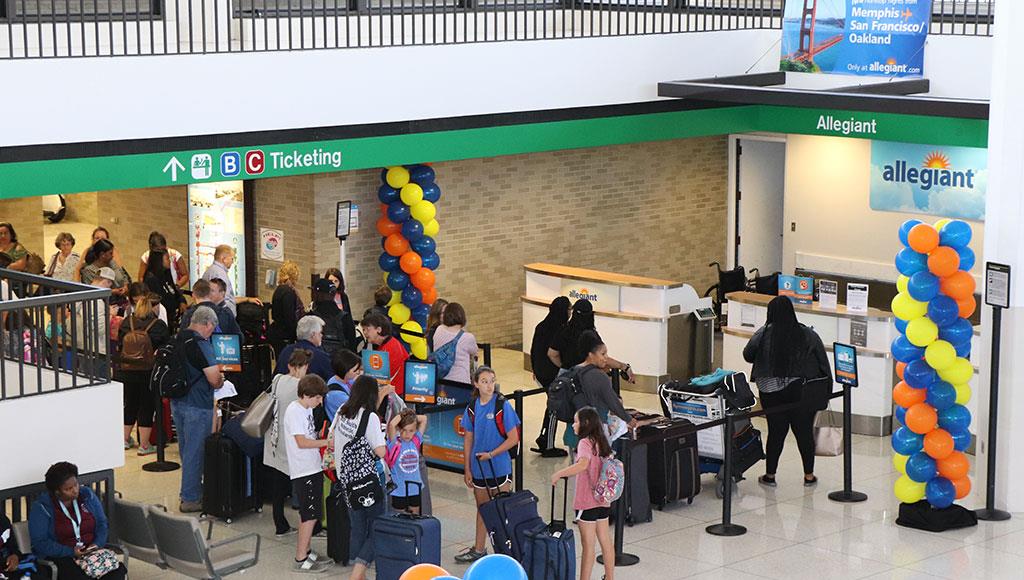 MEMPHIS, TENN. (May 30, 2018) – Allegiant has launched its new nonstop service between Memphis International Airport (MEM) and Oakland International Airport (OAK). The flight will run twice weekly on Wednesday and Saturday.
The flight is currently scheduled to be seasonal in nature, ending in mid-August, though strong demand could lead to a year-round service. Allegiant's Memphis-Los Angeles route began as seasonal service in 2016 before being added as a year-round route last year. Tickets are now on sale at www.allegiant.com. 
Allegiant now offers nonstop service to nine destinations at MEM, with Oakland joining Austin, Destin-Ft. Walton, Fort Lauderdale, Los Angeles, Las Vegas, Orlando/Sanford, Phoenix-Mesa, and St. Pete-Clearwater. Allegiant began operations at MEM in May 2015.
"This is an extremely positive development for MEM, as it adds another West Coast destination for our passengers," said Pace Cooper, Chairman of the Board of Commissioners for the Memphis-Shelby County Airport Authority. "We are thrilled that Allegiant has responded to our passenger demand with this Oakland route."
"We are so excited to continue our growth in Memphis, with the addition of this new nonstop route to the Bay Area," said Drew Wells, Allegiant vice president of revenue and planning. "This new route provides Memphis with their only nonstop option to the Bay Area and more opportunities to explore this great destination."
Flight schedule:
Memphis to Oakland
Departs: 1:36 pm
Arrives: 3:59 pm
Oakland to Memphis
Departs: 1251 pm
Arrives: 6:47 pm
For more information about these and other flights, visit https://flymemphis.com/flights
###