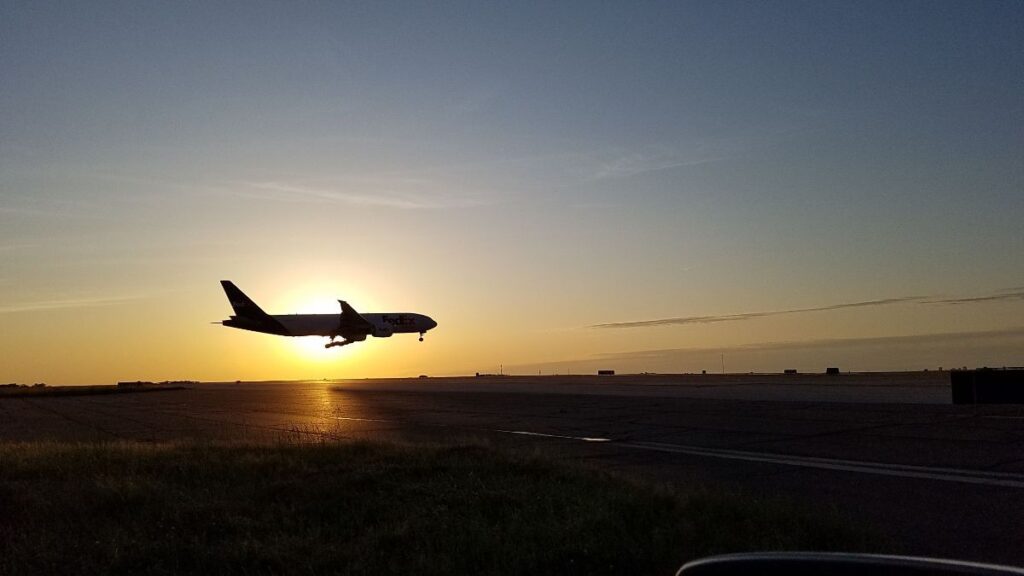 One of the most common things an airport hears is "We need flights to <insert desired destination>." We understand that, and we are continually meeting with airlines to expand options for passengers. Air service was a complex process prior to the COVID-19 pandemic, and that complexity has reached new levels as the aviation industry has worked to rebound. Routes across the nation were suspended for months during the height of the pandemic, and while most of them have returned at MEM, passenger traffic has changed. The most dramatic current effect is that business travel has not yet returned to prior robust levels, meaning that leisure traffic is currently driving the market. Despite that, our recent TSA checkpoint numbers have ranged between 80-90% of what we saw in 2019, when MEM experienced a record number of origin and destination or "O&D" travelers.
 
Basics of Air Service
Profitability is always going to be the top factor in an airline's decision to offer new service, which means that the biggest influence on new service is a significant, sustainable passenger base. Also, airports don't choose where the airlines fly, the airlines do. An airline has to believe there is sufficient long-term demand before it will commit to adding a route. Bringing in the aircraft, staff and other factors associated with a new route is a multimillion-dollar venture for an airline, and they are very deliberate in making these decisions. The strongest case we can make for additional air service is demand, and while that element is largely out of the airport's control, we try to complement that data with additional information to help solidify our case.
 
Building the case for more MEM service
MEM literally has discussions weekly with airlines about air service. These can come in the form of phone calls, in person meetings and conferences devoted to connecting airlines and airports. Our goals for Memphis International Airport (MEM) vary, depending on the airline. Sometimes we're working to maintain existing service. Sometimes we know that MEM is being considered for a route and we want to move up the list and re-emphasize the importance of that route. And sometimes we are making a case for a particular route. In short, our goal is to see how MEM can fit into the short-, medium-, and long-term business plans of various airline companies.
 
As mentioned earlier, the airlines have extensive passenger information. Airlines sell the tickets, so they know where and how passengers are traveling through their network. Our goal at MEM is to provide additional information about potential routes: to share data that the airlines don't already have. To that end, we've established partnerships with Memphis Tourism, Greater Memphis Chamber, and other regional chambers and business development groups. This allows us to share extensive information about tourism spending, business travel needs, and corporate connections to other markets. That type of information can be crucial in recruiting new service.
 
Recent Air Service Additions
The pandemic obviously had a devastating effect on the airline industry, but MEM experienced some success during the past couple of years with some air service additions:
December 2021: Spirit announces nonstop service between MEM and Las Vegas, Orlando, and Los Angeles starting in 2022.
December 2021: American announces nonstop service between MEM and Boston starting in 2022.
November 2021: Frontier launches nonstop Memphis-Miami service
June 2021: Frontier launches nonstop Memphis-Las Vegas service, American Airlines launches seasonal Orlando flights
November 2020: Southwest launches nonstop Memphis-Phoenix service
August 2020: Delta launched non-stop service to Salt Lake City, a transfer hub for Delta
March 2020: Southwest launches Memphis-Atlanta service
Looking Ahead: Goals for new service
MEM has recovered faster than many airports, and that's without significant business travel demand. This bodes well for the future, but the job is never done. We relentlessly pursue frequent and affordable air service. To that end, we maintain a list of our top unserved destinations as potential targets for new routes. A few things are important to consider when looking at this list: 1) the list changes all the time based on the airlines' passenger data, which is measured by PDEW or "Passengers Daily Each Way." 2) We will always have a top five or top 10 list of unserved destinations: for each city we mark off the list, another one replaces it. 3) air service is always a two-way street. These other cities are also working at add Memphis as a destination. 4)  A city's position on the list is less important than the PDEW number: if a destination is ranked #9 but has only 30 passengers per day each way, it's likely not a strong candidate for new service. Below are our current top five unserved destinations: 
Seattle                  65 PDEW
Baltimore              64 PDEW
San Diego             57 PDEW
Raleigh                 49 PDEW
San Francisco       47 PDEW
We've ended 2021 on a positive note with a new airline, Spirit announcing three routes to begin in 2022. We continue to have conversations with numerous airlines, and we are optimistic about MEM's continued growth in a rebounding industry. Have questions about this article or air service in general? Please email us at info@flymemphis.com.