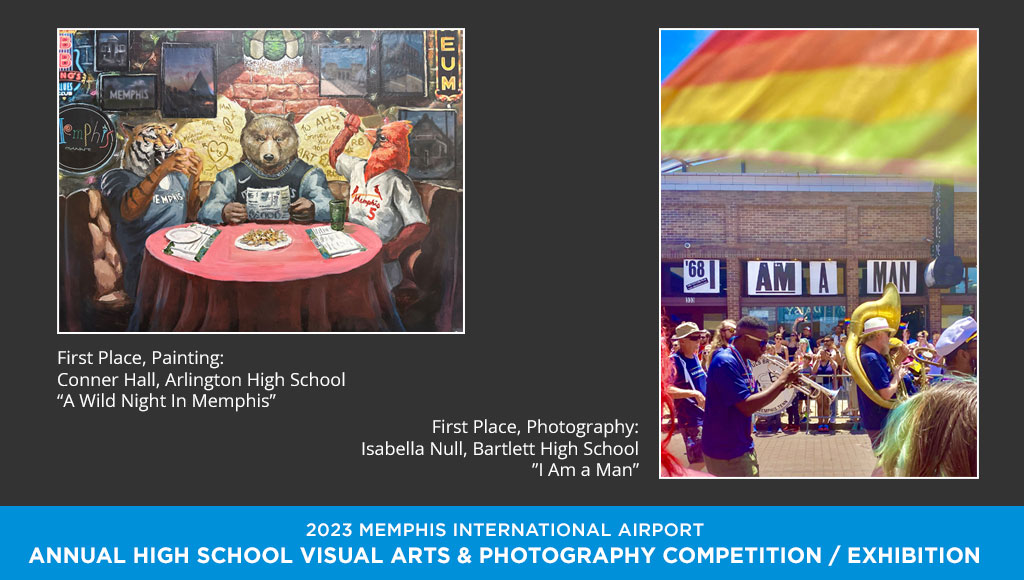 MEMPHIS, Tenn. (May 4, 2023) – Memphis International Airport (MEM) has announced the winners of its 16th Annual High School Visual Arts & Photography Competition.
This year's winners are as follows:
Paintings
1st – "A Wild Night in Memphis – Conner Hall, Arlington High School
2nd – "Love and Happiness" – Raven Fletcher, Collierville High School
3rd – "Impressions of Beale Street" – Angelina Tan, Germantown High School
Photographs
1st – "I Am A Man" – Isabella Null, Bartlett High School
2nd – "Majestic Memphis" – Jude Maurette, Christian Brothers High School
3rd – "Evergreen Ghost" – Jack Johnson, Christian Brothers High School
The winners were selected by a panel of judges from the local art community, including representatives from the University of Memphis, UrbanArt Commission, Christian Brothers University, Hooks Institute, Urevbu Contemporary and the Dixon Gallery and Gardens. There were nine judges this year. The airport received 163 painting submissions for the contest with 45 selected as finalists. There were 116 photography submissions, from which 42 finalists were chosen. A video for the contest and awards ceremony is being produced by CityCURRENT and is scheduled to air on WKNO this summer.
"We are excited to once again showcase the incredible artistic talents of our local students," said Scott Brockman, President and CEO of the Memphis-Shelby County Airport Authority. "This artwork is a wonderful way to welcome passengers to our community."
Students are provided art supplies by the airport's community foundation for the contest, and the finalists' pieces are displayed throughout the airport for one year. Most pieces are available for purchase by the public, and all proceeds go directly to the student artist. Some airport retailers may also sell items that feature students' artwork, with proceeds from those sales going to help purchase art supplies for the contest. Over the next few weeks, the 2023 finalist paintings and photographs will be installed in the baggage claim area and will remain on display for one year.
Online galleries can be found below: