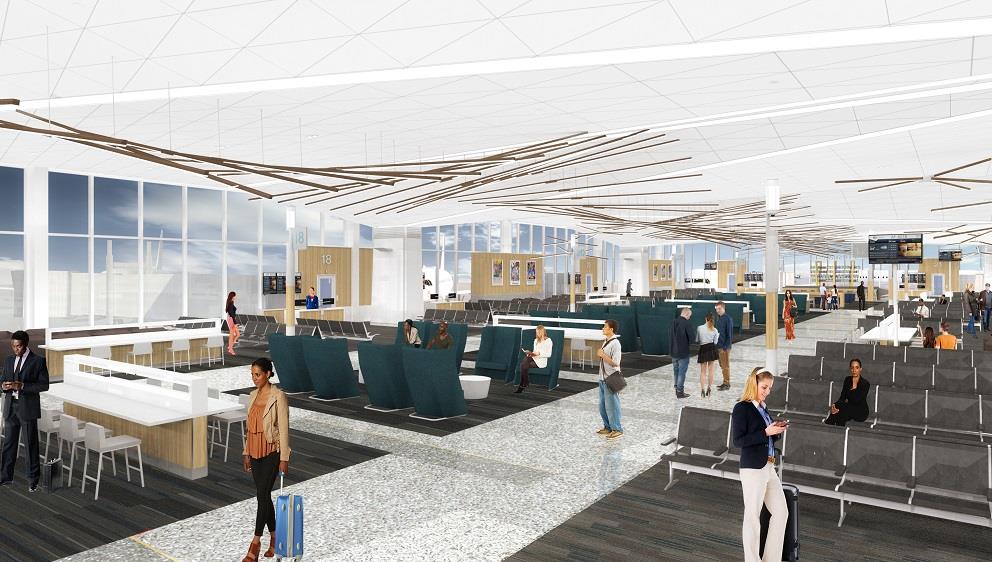 Image courtesy UrbanARCH with Alliiance
MEMPHIS, TENN. (April 20, 2017) – Memphis International Airport (MEM) has announced updated plans to redesign and modernize its B Concourse. The announcement took place at Thursday morning's Memphis-Shelby County Airport Authority (MSCAA) board of commissioners meeting.
 
The multi-year, multi-phase plan will involve the modernization of MEM's B Concourse as well as consolidating all airline, retail and food and beverage businesses into the remodeled concourse. Highlights of the modernization include the addition of wider corridors, moving walkways, larger boarding areas, higher ceilings and increased natural lighting. Additional amenities and concessions options will also be added. The modernization project will allow MEM to perform much needed seismic upgrades to the B Concourse.
 
The estimated cost for the full modernization project is $214 million. No local tax dollars will be used to fund the project, which was recently approved by MEM's airline partners. The previous modernization cost estimate included only B Concourse construction, while this estimate includes both B Concourse construction and related projects such as jet bridge construction and electrical upgrades on the A and C Concourses to accommodate additional airline operations.
 
"This is a lengthy, complex process, and it's crucial that we do it right in order to deliver the best possible airport experience for Memphis travelers," said Pace Cooper, Chairman of the Memphis-Shelby County Airport Authority Board of Commissioners. "We've made progress thus far, and more significant changes are on the horizon. These changes are all part of a project that will result in a modern, convenient, state-of-the-art airport for our passengers, airlines, concessionaires and other partners."
 
In the wake of Delta Air Lines' removal of passenger transfer hub operations in 2013, airport officials announced its preliminary modernization plans in early 2014. With MEM now an origin and destination airport rather than a transfer hub, modernization is necessary in order to streamline passenger flow, increase space and amenities, and create a more efficient and a "positively MEMorable" travel experience. The initial plan also called for the removal of the south ends of the A and C concourses to allow for unobstructed access by aircraft to the entire B Concourse. The south end of the A concourse was removed in 2015.
 
While the original design plan called for renovating and adding on to the existing B Concourse, the updated modernization plan calls for most of the B Concourse to be completely redesigned, reconstructed and expanded with additional passenger amenities. In order to expedite the renovations, the B Concourse will be closed during construction, and airlines and retail tenants will operate out of the A and C Concourses during that time. The south end of the C Concourse will remain intact until the B Concourse project is completed and airlines are relocated from C to B.
 
Once construction is complete, the consolidation into the B Concourse will begin. Consolidation will take place over an extended period rather than all at once in order to allow for the relocation of jet bridges and other equipment. This approach will cut down on the overall project time and cost.
 
On May 12, the Airport Authority will host a Business Development and New Project Showcase at the Guest House at Graceland. The goal of the event will be to provide in-depth information about upcoming airport projects–including the concourse modernization–to local, minority-owned and women-owned businesses.
 
Passengers can learn more about the modernization project at www.flymemphis.com/modernization.
Timeline
• Late 2017: Delta Air Lines moves to A, Allegiant moves to C
• Early 2018: B Concourse construction begins
• Early 2021: Modernized B Concourse opens
• Mid-2021: Consolidation completed, end of C removed
Budget details
• The modernization project and associated enabling projects are expected to cost approximately $214 million 
• No local tax dollars will be used to fund the modernization project –the airport does not receive any local tax revenue. 
• The majority of the modernization costs will be funded by federal and state grants with the balance from our operating budget. The Airport Authority also plans to issue general airport revenue bond debt to help fund the project. The remaining costs are factored into the airport's terminal rates and charges, which are paid by passenger airlines and other terminal tenants that operate at MEM.  
After new B Concourse opens:
• Airlines will relocate to the B Concourse. Commuter airlines will operate from a new ground boarding area on the A Concourse. 
• Concessions in the A and C Concourses will be moved to B, giving them greater exposure to concentrated numbers of passengers.
• The new B Concourse will feature new and enhanced retail and food options. 
• Ticketing/check-in will continue in the A, B and C Terminals. 
• Baggage claim for all airlines will be consolidated into the B baggage claim area, though the A and C baggage claim areas will remain open for passenger entrance and exit. 
• Security screening is not anticipated to change and will primarily be consolidated to B, although a second security checkpoint at C will also be available for periods of heavy traffic. 
What's happened since the initial modernization announcement in 2014:
• Continued work between Airport Authority, design team and airline partners to refine design plans
• Southwest and American ticketing counters were moved to the B Terminal
• New outbound baggage belt system installed in west half of the B ticketing lobby
• The south end of the A Concourse was removed
• Neely's Interstate BBQ moved to the C Concourse
• TSA Operations and office areas relocated from A Concourse to B Concourse  
• The Airport has applied for and received National Environmental Protection Act approval from the Federal Aviation Administration on this project
• Added airport-wide consolidated flight information systems and digital displays