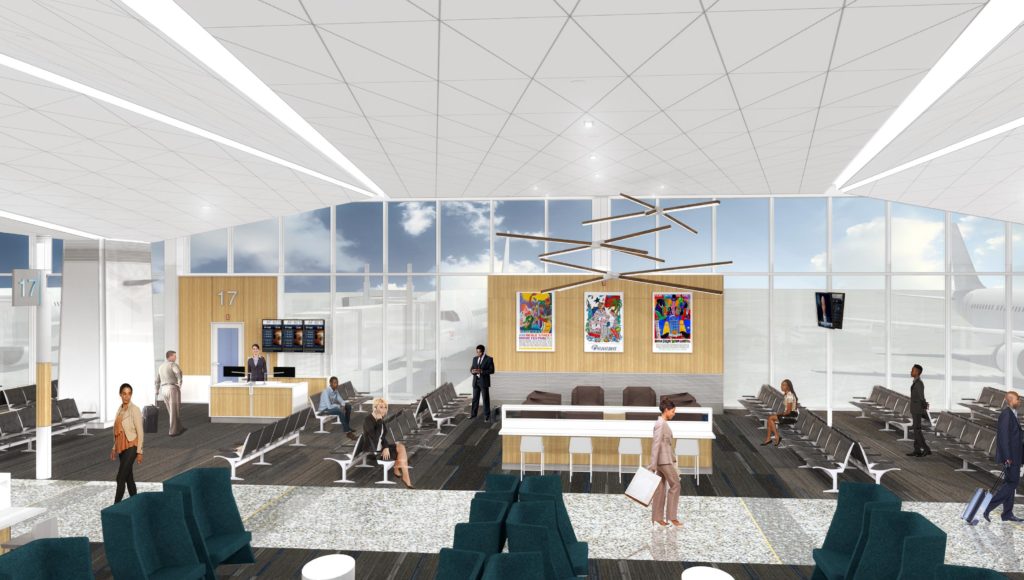 MEMPHIS, TN (February 8, 2018) — Memphis International Airport (MEM) continues to prepare for the next phase of its modernization project, which involves the modernization of MEM's B Concourse as well as consolidating all airline, retail and food and beverage businesses into B upon completion of the project.
During the B Concourse construction, all airlines will operate out of the A and C Concourses. The closure of B will coincide with Delta Air Lines moving its operations to the A Concourse and Allegiant moving to the C Concourse. In cooperation with its airline partners, who have asked for additional moving time to bridge over the busy Spring Break travel season, the airport anticipates closing the B Concourse for construction by the end of March. This will not impact construction time or the project's expected completion in 2021.
MEM Modernization Pre-Bid Networking Forum Scheduled for March 8
The airport is currently accepting statements of qualifications for the concourse modernization construction, with a deadline of February 15. The next step in the construction phase will take place on March 8, when the airport hosts the MEM Modernization Pre-Bid Networking Forum at the Holiday Inn University of Memphis. Attendees will hear from airport officials, learn about the bidding process, gain insight into the regulatory and procedural requirements for the project, learn how to submit questions for formal review, and meet the eligible bidders who are being evaluated through the current RFQ process. Local, minority-owned and women-owned businesses are encouraged to attend to learn more about subcontracting opportunities. Attendees can learn more at www.flymemphis.com/prebidforum.
New Food and Beverage Options
Anticipating increased passenger traffic in the A and C Concourses, the airport has opened a new Starbucks and Urban Market near the B checkpoint and a new Cinnabon Baked to Go on the C Concourse. In addition, when the B Concourse closes for construction, Lenny's Subs will move near Gate A23 and a new Italian-themed restaurant, Torn Basil, will open near gate A27. A new Blue Moon kiosk bar will be added near gates C1 and C2, as well.
New Military, Mother's Nursing Rooms in A and C
New military lounges and mother's nursing rooms have opened near gates A27 and C8.
The multi-year, multi-phase modernization plan will include the addition of wider corridors, moving walkways, larger boarding areas, higher ceilings and increased natural lighting. Additional amenities and concessions options will also be added. The modernization project, which is scheduled to be completed in 2021, will allow MEM to perform much needed seismic upgrades to the B Concourse.
Passengers can learn more about the modernization project at www.flymemphis.com/modernization or take a virtual tour at https://goo.gl/mFdLLk.
###