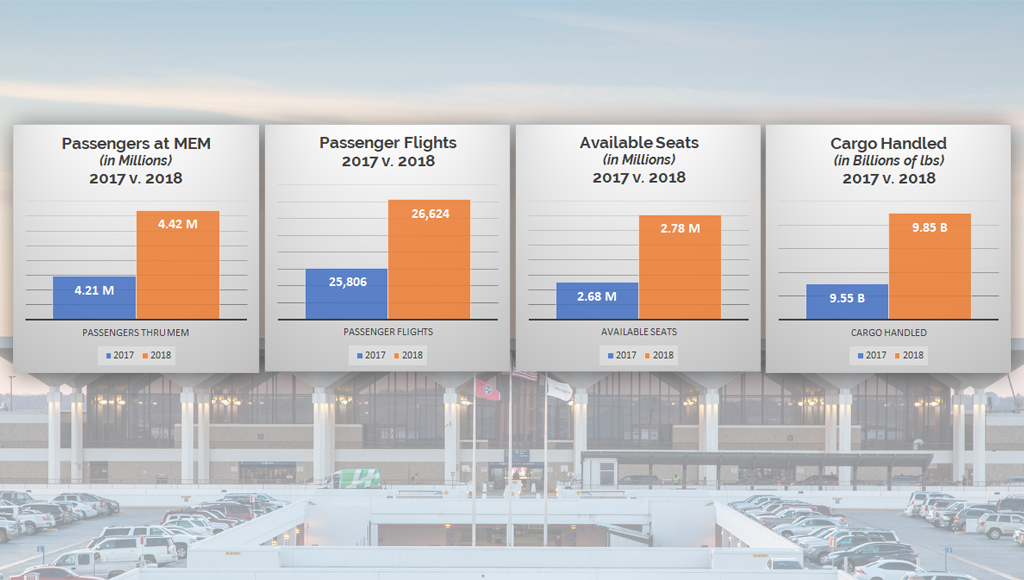 MEMPHIS, TENN. (January 30, 2019) – Memphis International Airport (MEM) continued its strong growth trends in 2018, posting significant increases in passenger and cargo traffic compared to 2017. More than 4.4 million passengers passed through MEM in 2018, an increase of more than 200,000 from 2017. 2018 marks the fourth straight year of increased passengers. 
The number of passenger flights increased from 25,806 in 2017 to 26,624 in 2018, an increase of 3.2%. In addition, the number of seats available to MEM passengers increased by 3.4% from 2,689,914 to 2,781,380.
Cargo, due primarily to FedEx, increased by 3.08% with more than 9.85 billion pounds handled.
"2018 proved to be a very strong year for MEM in many areas," said Pace Cooper, Chairman of the Memphis-Shelby County Airport Authority Board of Commissioners. "More passengers are traveling to and from Memphis, airlines are growing at MEM, and our cargo operations continue to have a huge positive impact on the local economy."
The year end statistics can be found at http://bit.ly/MEMstats2018.
###