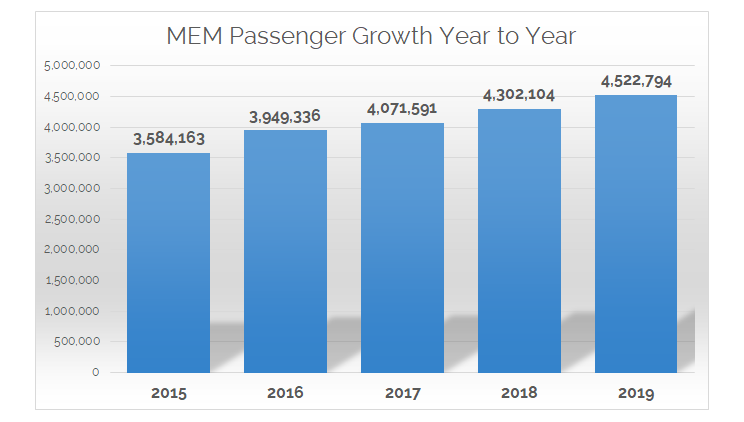 MEMPHIS, Tenn. (August 19, 2019) – More than 4.5 million passengers traveled through Memphis International Airport (MEM) in fiscal year 2018-2019, which ended on June 30. That figure represents a 5.13% increase compared to the previous fiscal year and marked the 5th consecutive fiscal year of passenger growth for the airport. The number of MEM passengers has increased by more than 938,000, or 20.7%, since fiscal year 2014-2015.  
Memphis International Airport passenger totals by fiscal year (July 1- June 30):
2019: 4,522,794
2018: 4,302,104
2017: 4,071,591
2016: 3,949,336
2015: 3,584,163
Continued passenger growth has coincided with a drop in average airfares. Since 1stquarter 2012, when the airport operated as a hub for Delta Air Lines, the average airfare has dropped $188 (inflation adjusted), according to statistics from the U.S. Department of Transportation. While airlines rather than the airport set fares, the addition of new and low-cost airlines in the post-hub era has helped to add competition and drop the average fare to many markets. Since 2013, Southwest Airlines, Allegiant Air, Frontier Airlines, and Air Canada have all added service at MEM, and American Airlines and United Airlines have increased their number flights and seats.
When MEM operated as a hub, between 75-80% of its passengers were transfer passengers passing through Memphis and connecting to another destination. Now, more than 99% of all MEM passengers are origin and destination passengers, beginning or ending their trip in Memphis.
"These passenger growth numbers are extremely encouraging for the Memphis community," said Pace Cooper, Chairman of the Board of Commissioners for the Memphis-Shelby County Airport Authority. "More and more passengers are traveling to and from Memphis, and the airlines are meeting this increased demand." 
With summer passenger numbers continuing to reflect strong growth, MEM is providing the following travel tips:
Arrive early & check with airlines prior to traveling
MEM recommends that travelers arrive at the airport at least two hours before their departure time to ensure that they have plenty of time to check luggage and go through the security checkpoint. The early morning hours, between 4-7 a.m., are the busiest at MEM in terms of passenger activity.
Passengers should check with their airlines to monitor schedules.
Each airline has different polices and fees for baggage. Check your airline's website so that you're familiar with them.
Airlines rather than the airport are responsible for all aspects of ticketing, scheduling, gate operations and baggage handling. Check with your airline if you have questions about any of these aspects of air travel. 
Know what you can and can't bring through security
In order to expedite security screening time, passengers should review the Transportation Security Administration's (TSA's) list of prohibited items. Firearms in carry-on bags are prohibited by federal law. Check your bags before you arrive at the airport.
More summer TSA travel tips can be found here.
Parking
The economy parking area may periodically reach capacity during peak travel days.
When this occurs, additional signage will be added, and additional parking staff will help direct drivers to available parking spots.
Drivers who are waiting to pick up arriving passengers can save time by utilizing more than 200 spaces in the airport's cell phone lot, which is equipped with a flight information board and free Wi-Fi.
Links
###