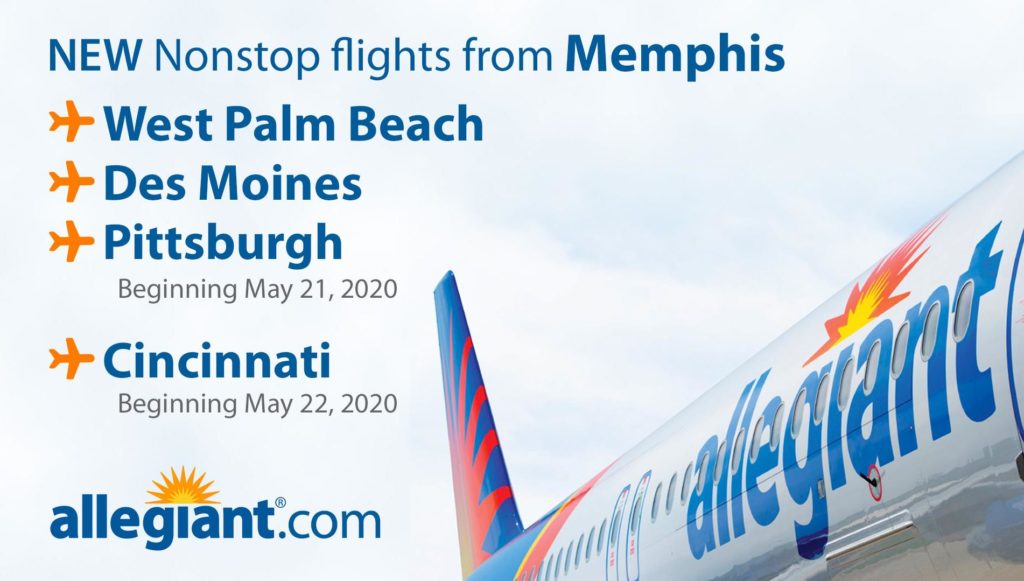 MEMPHIS, TENN. (January 14, 2020) – Allegiant has announced four new seasonal nonstop flights at Memphis International Airport, with new service beginning in May between MEM and Cincinnati/Northern Kentucky International Airport (CVG), Des Moines International Airport (DSM), Palm Beach International Airport (PBI) and Pittsburgh International Airport (PIT). Flights between Memphis and Des Moines, Palm Beach and Pittsburgh will begin on May 21, while the Memphis-Cincinnati service will begin on May 22. Each service will run two times weekly.
Tickets are on sale at www.allegiant.com. While each of these new flights are seasonal, strong passenger demand could lead to ongoing service.
Allegiant's average flights per week at MEM will increase from 37 to 45 this summer.
With these flight additions, Allegiant now offers nonstop service to 14 destinations at MEM: Austin, Cincinnati, Des Moines, Destin-Ft. Walton, Fort Lauderdale, Los Angeles, Las Vegas, Palm Beach, Pittsburgh, Punta Gorda, Orlando/Sanford, Phoenix-Mesa, Punta Gorda/Ft. Myers, and St. Pete-Clearwater. Allegiant began operations at MEM in May 2015.
"Allegiant's rapid growth at MEM is something that has been embraced by our passengers," said Pace Cooper, Chairman of the Board of Commissioners for the Memphis-Shelby County Airport Authority. "We truly appreciate Allegiant's continued commitment to MEM, which is evident with the addition of four new markets!"
For more information about these and other flights, visit https://flymemphis.com/flights
###