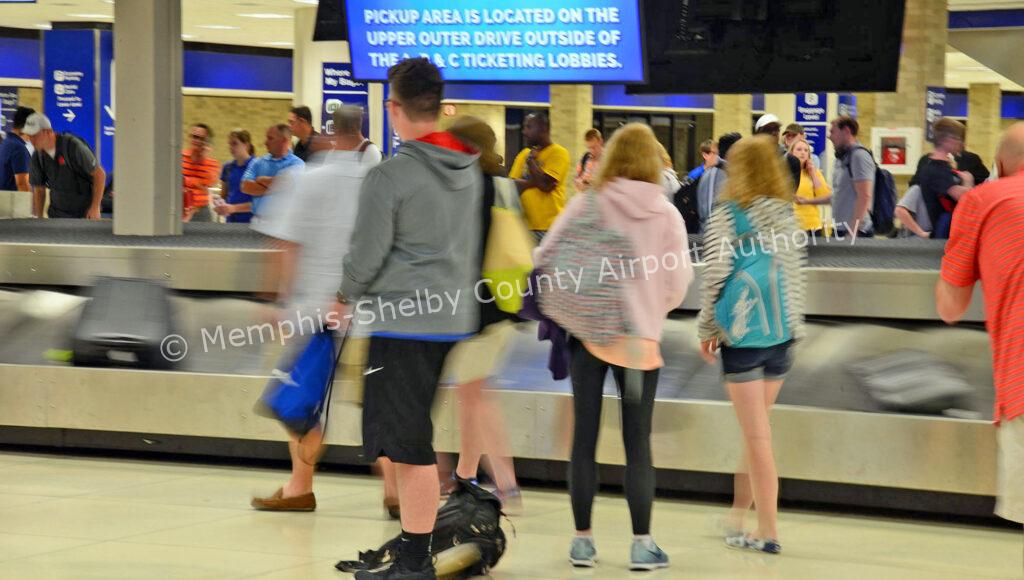 MEMPHIS, TENN. (May 20, 2021) – Starting on Wednesday, May 26, all airlines at Memphis International Airport will conduct baggage operations in the B baggage lobby. American Airlines, Southwest Airlines and United Airlines will all move baggage service offices to the B area on that date. All other airlines already utilize the B baggage area. The move is taking place ahead of the anticipated opening of the modernized B Concourse later this year, which is now targeted for this fall.
United's baggage service office will be located next to the Delta Air Lines baggage office, while both American Airlines and United Airlines will have offices near carousel 4. For passengers, the changes will result in all inbound baggage being claimed in the B baggage lobby. Airlines, rather than the airport, handle all aspects of baggage operations.
Other highlights of the consolidation:
Carousels in the B area are newer and larger and are less prone to jamming.
Signage will now direct all arriving passengers to the B baggage area.
The A concourse exit lane will be closed.
The C concourse exit lane will be closed unless the C security checkpoint is open.
While baggage operations will not be conducted in the A and C areas, the areas will be available as backup if needed. The curbs outside A and C baggage will also remain open for passenger pickup.
With the expected increase in vehicle traffic outside the B baggage area, passengers are encouraged to utilize the cell phone waiting lot before picking up passengers. The cell phone lot features a real-time flight information display. To avoid traffic congestion, the baggage level curbside lane will be available for immediate active pickup only. Vehicles will no longer be able to park outside the baggage area and wait on arriving passengers.
Other MEM Updates:
Federal mask mandate still in effect until September 13: Federal law requires passengers over the age of 2 (with limited exceptions) to wear a mask when traveling through U.S. airports, including MEM. More information about this and other COVID-19 related operations can be found at www.flymemphis.com/covid-19.
Passenger growth: Last week (Sunday-Saturday) was the busiest week at MEM since the first week of March 2020, with nearly 43,000 screened at the security checkpoint. While that number is down by more than 24% compared to the same time period in 2019, MEM continues to recover at a faster rate than the national average (the average US airport was down by 34.5% last week compared to 2019).