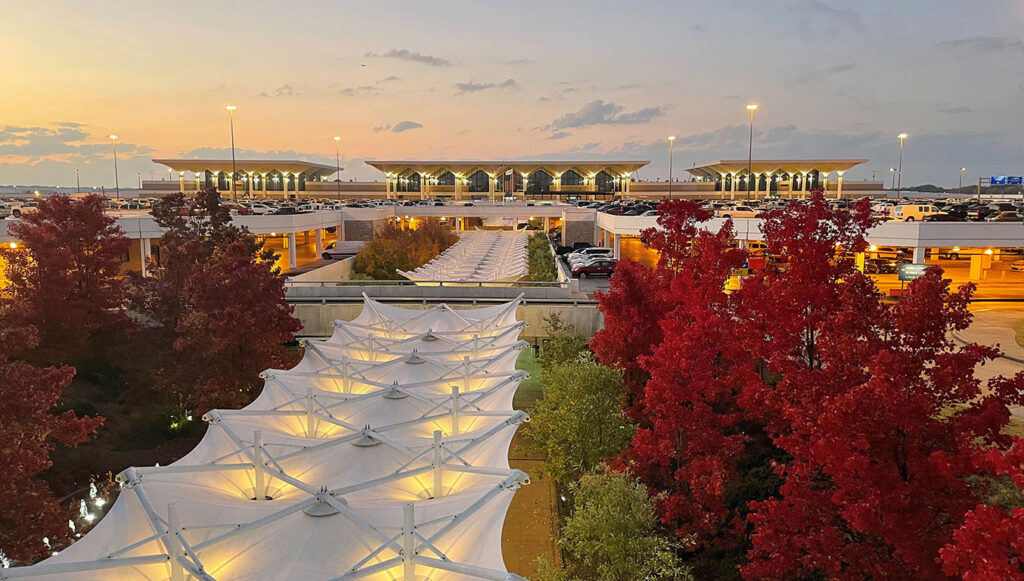 MEMPHIS, Tenn. (November 18, 2021) – Memphis International Airport (MEM) is projecting a total of 78,000 people to pass through the security checkpoint during the Thanksgiving travel period that runs from Friday, November 19 through Monday, November 29. The projected total represents an approximate decrease of 7.5% compared to Thanksgiving 2019 and an increase of 90% compared to Thanksgiving 2020.
The expected peak day is Sunday, November 28, with a projected checkpoint throughput of about 9,000. Other expected peak days include Friday, November 19; Wednesday, November 24; Saturday, November 27 and Monday, November 29.
With numbers approaching 2019 levels, MEM is providing passengers with tips to help ensure a more efficient travel experience.
Passenger Travel Tips
MEM recommends that travelers arrive at the airport at least TWO HOURS before their departure time. The busiest period for passengers is between 4-8 am.
Prior to coming to the airport, passengers can also save time by checking in online via their airline's website.
Passengers should check with their airlines to monitor schedules.
Airlines rather than the airport are responsible for all aspects of ticketing, scheduling, gate operations and baggage handling. Check with your airline if you have questions about these subjects.
All baggage claim operations are conducted in the B baggage lobby.
The economy parking area may periodically reach capacity during peak travel days. When this occurs, additional signage will be added, and additional parking staff will help direct drivers to available parking spots.
MEM is also prepared to activate an overflow parking area should the economy, short-term and long-term garages reach capacity. Should this occur, additional parking staff will help direct drivers to this lot. For convenience, drivers parking in the overflow lot may want to drop off luggage and other passengers at the terminal before parking.
TSA
Screening continues to be performed primarily at the B Checkpoint. The C Checkpoint will be opened only during limited hours during peak periods. Hours of operation at the C Checkpoint will vary daily based on demand. Please follow the directions of TSA and airport personnel.
As a temporary exemption from its "3-1-1" rule (no liquids in excess of 3.4 oz. in carry-on bags), TSA is allowing one oversized liquid hand sanitizer container, up to 12 ounces per passenger, in carry-on bags. 
In order to expedite security screening time, passengers should review the Transportation Security Administration's (TSA's) list of prohibited items.
Firearms in carry-on bags are prohibited by federal law. Check your bags before you arrive at the airport.
COVID-19 Measures
The federal mask mandate is still in effect for all U.S. airports until January 18, 2022. Federal law requires passengers over the age of 2 (with limited exceptions) to wear a mask when traveling through U.S. airports, including MEM.
Passengers without a mask will be denied security screening and access beyond the TSA checkpoint.
Passengers without a mask may be denied entry, boarding, or continued transport. Failure to comply with the mask requirement can result in civil penalties.
Complimentary masks are available at the ticketing counters and the TSA checkpoint, and additional masks are available for sale at retail shops.
Travelers Health Services
Travelers Health Services which is operated by local medical concierge clinic ZüpMed, is an onsite COVID-19 testing and services location in the B ticketing lobby across from the Southwest Airlines and American Airlines counters. Designed to provide fliers with immediate access to COVID testing and travel guidance during the pandemic, the site is open seven days a week from 5 am-8 pm. Hours may be adjusted based on passenger traffic. Both walk-ins and appointments are accepted.
Travelers Health Services will provide both molecular and antigen "rapid" tests and will serve as a collection point for PCR assays–COVID tests that will be processed by the company's partner laboratory nearby. Passengers can learn more about COVID testing requirements by visiting the Centers for Disease Control (CDC) website. For more information about ZüpMed/Travelers Health Services, visit https://www.zupmed.com or call (901) 701-7010.
Additional Links