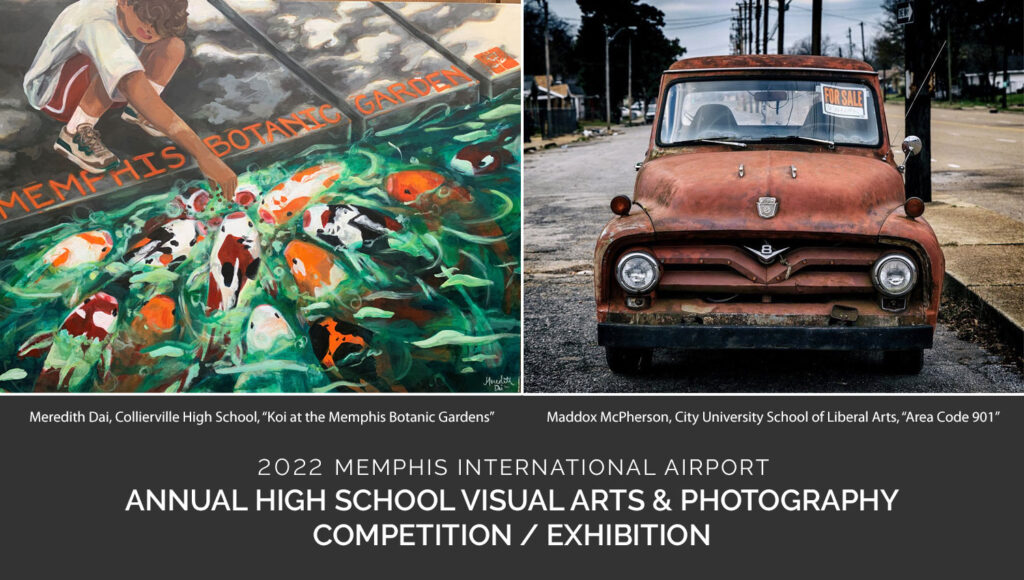 MEMPHIS, Tenn. (May 26, 2022) – Memphis International Airport (MEM) has announced the winners of its 15th Annual High School Visual Arts and Photography Competition. The winners were announced as part of a virtual event, which can be accessed at https://bit.ly/MEMartawards22. The event was produced in partnership with CityCURRENT. Following are this year's winners:
Paintings
1st Place: Meredith Dai, Collierville High School, "Koi at the Memphis Botanic Gardens"
2nd Place: Taylor Nelson, Collierville High School, "Peabody from Below"
3rd Place: Eleanor Hsueh, Houston High School, "Memphis Smorgasbord"
Photographs
1st Place: Maddox McPherson, City University School of Liberal Arts, "Area Code 901"
2nd Place: Brooklynn Hellums, Bartlett High School, "Metal Museum"
3rd Place: Natalia Ramos, Bartlett High School, "Remembrance"               
All finalists will receive a certificate and the winners will receive the following prizes:
1st Place: $300
2nd Place: $200
3rd Place: $100
The winners were selected by a panel of judges from the local art community, including representatives from the University of Memphis, Christian Brothers University, the Withers Collection Museum & Gallery, UrbanArt Commission, Urevbu Contemporary and the Dixon Gallery and Gardens. There were nine judges this year. The airport received 96 submissions for the art contest with 43 selected as finalists. There were 79 photography submissions, from which 36 finalists were chosen.
Students are provided art supplies by the airport's community foundation for the contest, and the finalists' pieces are displayed throughout the airport for one year. Most pieces are available for purchase by the public, and all proceeds go directly to the student artist. Some airport retailers may also sell items that feature students' artwork, with proceeds from those sales going to help purchase art supplies for the contest. The student art exhibit is independent of the B Concourse art collection and will be located in the connector between the B and C concourses.
Online galleries can be found below:
https://flymemphis.com/arts-in-the-airport-2022-paintings/