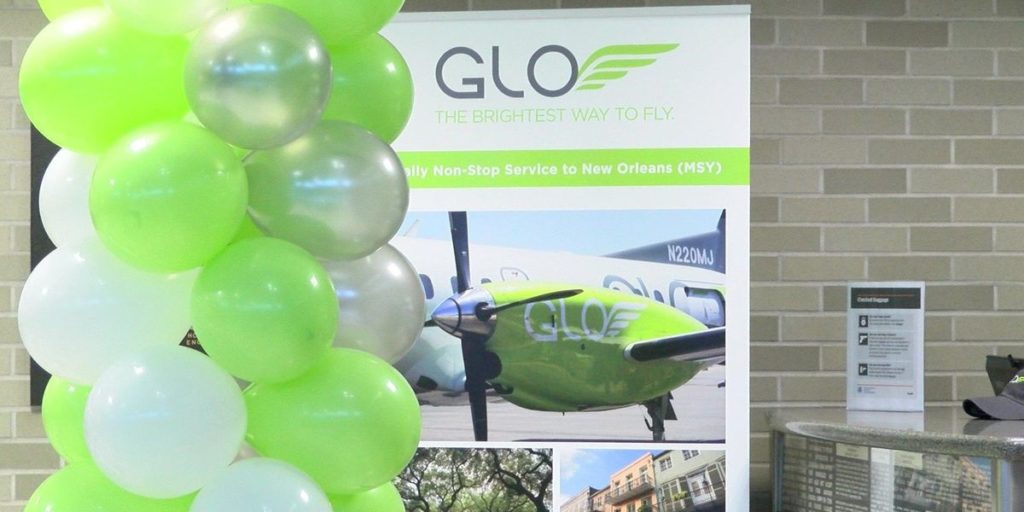 New Orleans-based carrier GLO Airlines has announced that it is suspending its operations nationwide effective July 15. GLO began service between Memphis International Airport (MEM) and Louis Armstrong New Orleans International Airport (MSY) in November 2015. 
Below is a news release that GLO issued today:
FOR IMMEDIATE RELEASE
GLO FORCED TO SUSPEND FLIGHT OPERATIONS EFFECTIVE JULY 15 DUE TO POOR OPERATOR PERFORMANCE  
NEW ORLEANS, LA – Today New Orleans-based startup regional air service operator GLO released the following statement: 
For the past 20 months, GLO has successfully re-established non-stop air service to Gulf and Mid-South regional markets that were previously underserved by legacy air carriers. However, in recent weeks GLO has had to cancel an excessive number of flights due the inability and unwillingness of their flight operator, Corporate Flight Management (CFM), to properly staff flights and maintain aircraft as required. 
As a result, effective July 15th, 2017, GLO will pause flight service in order to secure a better operator. All affected passengers are being contacted directly and will be refunded or re-accommodated.  Please contact GLO with questions. 
"CFM's behavior has put an unacceptable strain on relationships with our passengers and other vendors.   Despite growing demand, loyal customers, and our best efforts to enforce our contract, we have been unable to reach a resolution," said Founder and CEO Trey Fayard.  "I started GLO to deliver a superior product to my hometown and other worthy local markets, and I refuse to settle for anything less. We look forward to returning to all markets and expanding further once the right partner is found," said Fayard.