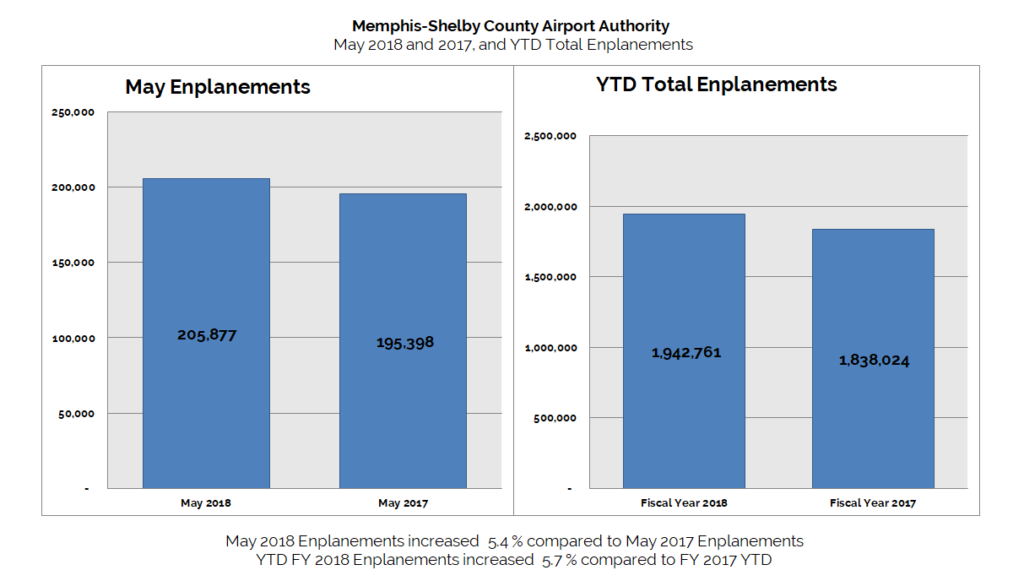 MEMPHIS, Tenn. (June 29, 2018) – Memphis International Airport (MEM) continued its strong growth trends in May, with passenger and cargo operations showing significant increases compared to May 2017.
There were more than 205,000 enplanements in May 2018, a 5.4 percent increase compared to May 2017. Enplanements at MEM have increased this fiscal year by more than 104,737 compared to last fiscal year. "Enplanement" is a common airport industry term that refers to a passenger getting on a plane. The number of enplanements represents half the total number of passengers, since it does not account for passengers who are deplaning. MEM is projected to exceed two million enplanements/four million passengers for the second consecutive fiscal year.
The passenger growth in May was reflected the combined load factor for the airlines serving Memphis, with 91 percent of available seats filled.
MEM's cargo operations also showed strong growth in May with 843,773,000 pounds handled, an 8.6 percent increase compared to May 2017. Overall, cargo has increased by 2.5 percent in Fiscal Year 2018 compared to FY2017.
"This is good news all around for MEM and our community," said Scott Brockman, President and CEO of the Memphis-Shelby County Airport Authority. "Our passenger growth trends show that more and more people are traveling to and from Memphis, and the cargo growth is a crucial economic driver for the region."
###