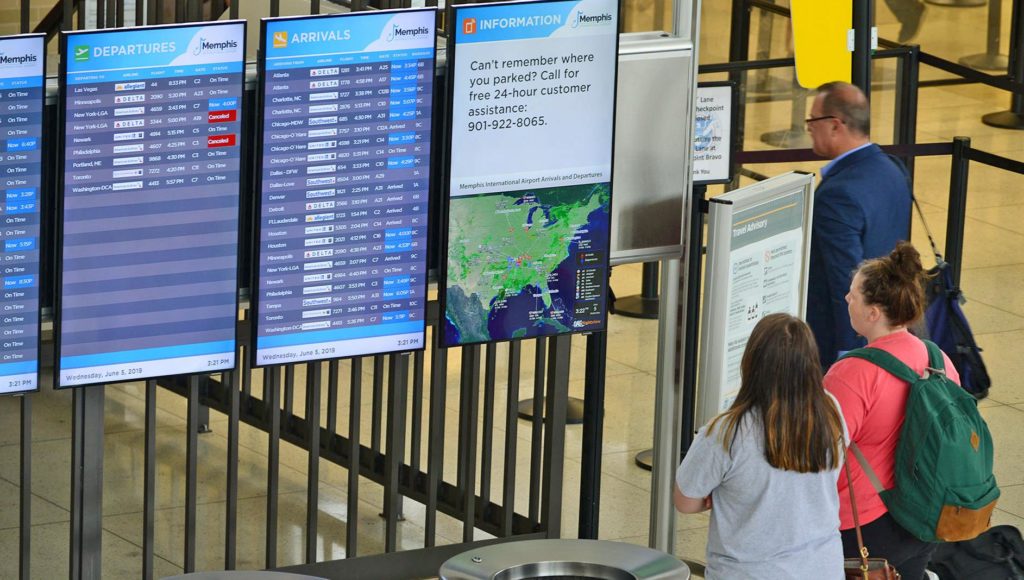 Passengers advised to arrive at airport 2 hours before departure
MEMPHIS, Tenn. (October 8, 2019) – Memphis International Airport is preparing for a busy upcoming fall break travel period, with the heaviest travel days expected between October 10-14. Airlines at MEM have a total of 45,740 available seats during that five-day period, and most flights are expected to be at or near capacity. With MEM experiencing its busiest year since 2008 for origin and destination passengers, the airport is providing some tips for fall break passengers:
Arrive early & check with airlines prior to traveling
MEM recommends that travelers arrive at the airport at least two hours before their departure time to ensure that they have plenty of time to park, check luggage and pass through the security checkpoint. The early morning hours between 4-7 a.m. are the busiest at MEM for passenger activity.
 
Passengers should check with their airlines to monitor schedules.
 
Each airline has different polices and fees for baggage: check your airline's website so that you're familiar with them.
 
Airlines rather than the airport are responsible for all aspects of ticketing, scheduling, gate operations and baggage handling. Check with your airline if you have questions about any of these aspects of air travel.
Know what you can and can't bring through security
In order to expedite security screening time, passengers should review the Transportation Security Administration's (TSA's) list of prohibited items.
 
Firearms in carry-on bags are prohibited by federal law. Check your bags before you arrive at the airport.
 
More TSA travel tips can be found here.
Parking
The economy parking area may periodically reach capacity during peak travel days. When this occurs, additional signage will be added, and additional parking staff will help direct drivers to available parking spots.
 
MEM is also prepared to activate an overflow parking area should the economy, short-term and long-term garages reach capacity. Should this occur, additional parking staff will help direct drivers to this lot. For convenience, drivers parking in the overflow lot may want to drop off luggage and other passengers at terminal before parking.
 
Drivers who are waiting to pick up arriving passengers can save time by utilizing more than 200 spaces in the airport's cell phone lot, which is equipped with a flight information board and free Wi-Fi. 
Additional Links