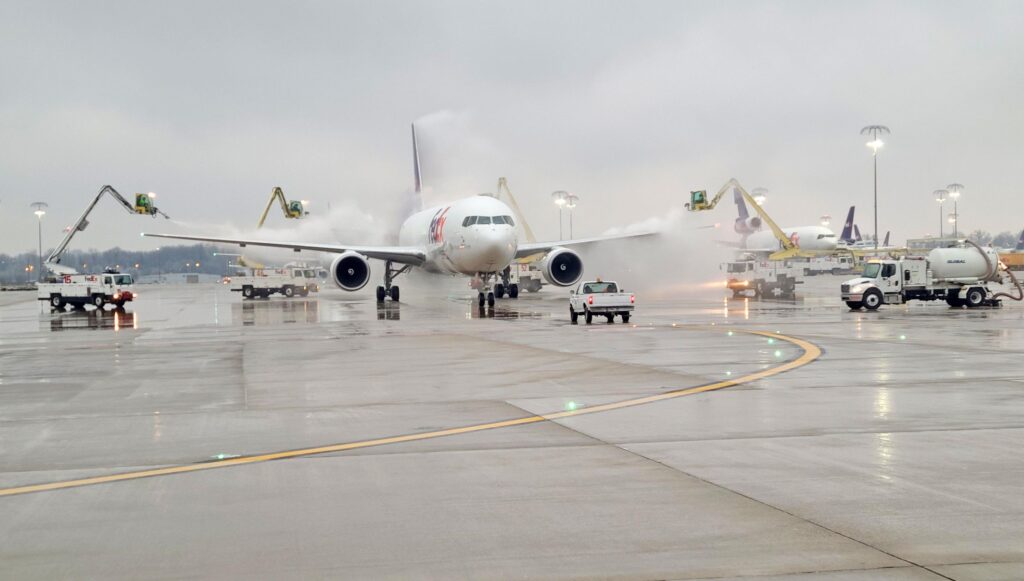 MEM Operations Update 2-18-21: 1015 am
MEM crews worked throughout the night to clear runways, taxiways and other surface areas. MEM crews have stayed on site at our Mission Support Center since Sunday night, for the most part rotating in 8-hour shifts 24 hours a day. We expect to continue winter operations into the weekend.
While there quite a few cancelations, a number of passenger flights are continuing as scheduled today. Passengers should check with airlines for the most updated scheduling information.
The airport is still experiencing some water pressure issues, but thus far all restrooms remain open.
Restaurants are currently closed but HMS Host, which operates food and beverage services at MEM, is working to bring staff in today.
Some retail shops are open.
Runways are still closed at our general aviation airports, General DeWitt Spain and Charles W. Baker, though helicopter fueling is still available at Spain.


MEMPHIS, TENN. (February 12, 2021) – With more winter weather in the forecast this week, Memphis International Airport (MEM) is providing passengers with information about how winter weather affects air travel, and how the airport works to keep flights arriving and departing safely:
Snow Operations:
When winter weather is forecast, MEM schedules its crews based on the amount, duration and type of the expected precipitation. Snow and ice require different types of treatment.
 
The goal is to prevent the buildup of ice and snow on runways and taxiways so that aircraft can continue to operate.
 
MEM has 44 vehicles dedicated to snow/ice removal, including snow brooms, plow trucks, snow blowers, liquid and granular de-icing trucks, and tractors.
 
About 75 Airfield Maintenance and 50 Building Maintenance employees are available, along with staff from Operations, Communications, Airport Police, Procurement, and other areas. The vast majority of the Airport Authority's 300 employees are involved in winter weather operations in some capacity.
Airlines:
Runways at MEM are open, but passengers should contact their airline before traveling. Airlines manage all aspects of scheduling and will have the most up-to-date information. Early morning flights in particular could be affected.
 
Even if MEM is open with flights arriving and departing, weather across the U.S. could disrupt airline schedules this week.
 
Airlines are also responsible for all aspects of ticketing, baggage, and gate operations.
 
While MEM is responsible for deicing and clearing runways and taxiways, airlines handle all aspects of deicing aircraft, including inventory, scheduling, application and equipment maintenance.
Other Passenger Information:
Allow for extra time to get to the airport due to road conditions.
 
Many airport operations have been affected by the COVID-19 pandemic. Find out the last information at www.flymemphis.com/covid-19
Additional Links